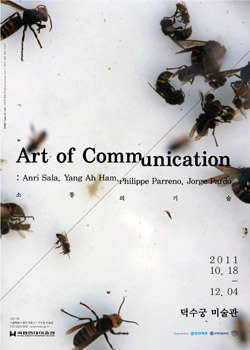 Art of Communication
Anri Sala, Yang Ah Ham, Philippe Parreno, Jorge Pardo
18 October–4 December 2011
National Museum of Contemporary Art
Seoul-si Jung-gu Jeong-dong 5-1 Deoksugung Palace
Seokjojeon Building, Korea
Contemporary art is a guidepost of social trends. The works of contemporary artists in museums are more than objects of beauty or standards of aesthetics; they are objects with specific practical functions in the social context of everyday life. In this sense, interacting with contemporary art is not an exercise in knowledge of art. Rather it calls for empathy that precedes inspiration, flashes of self-awareness that shine the light of insight at unexpected moments.
The exhibit Art of Communication: Anri Sala, Yang Ah Ham, Philippe Parreno, Jorge Pardo brings together the art of four internationally renowned artists Anri Sala, Yang Ah Ham, Philippe Parreno, and Jorge Pardo under the theme of communication. The four have worked together and apart with common and diverging themes: the intimacies of everyday life, social messages, and the eternal dialogue between the arts. Their art, replete with both particular and universal sensibilities, now come together with audiences in the contemporary city of Seoul to strike the spark of communication and creative imagination.
…
Jorge Pardo (1963–) from Cuba mixes everyday designs and architecture in his art. The objects, making eager use of color and light, are sensual, poetic, and rhythmical. The objects exhibited are personal items such as lamps, tables, and chairs, but also play a public role as works of art. These everyday objects also indirectly reveal the social context and background in which they were born.
---
Link to the original article