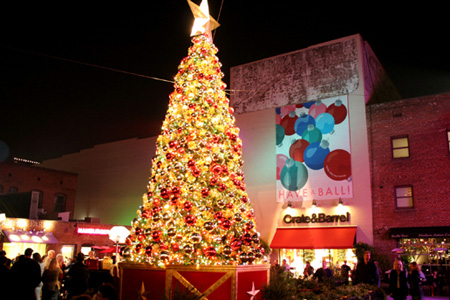 May 20, 2011 – November 6, 2011
One Colorado Courtyard, 41 Hugus Alley, Pasadena, CA
Untitled: Site Installation by Jorge Pardo
The Armory Center for the Arts and One Colorado present a new large-scale installation by world-renowned artist Jorge Pardo. The work will be on display from May 20 – November 6, 2011. The new work, called Untitled (One Colorado, Pasadena), will be on view in the One Colorado Courtyard, located in Old Pasadena in the block bounded by Colorado Boulevard, Fair Oaks, Union, and De Lacey.
Jorge Pardo (b. Havana, Cuba, 1963) is an artist whose body of work explores the intersection of contemporary painting, design, sculpture, and architecture. In this temporary exhibition, a 28-foot pepper tree installed in the center of the public courtyard is illuminated by sets of multi-colored translucent globes, designed by the artist, that hang from the branches.
---
Link to the original article