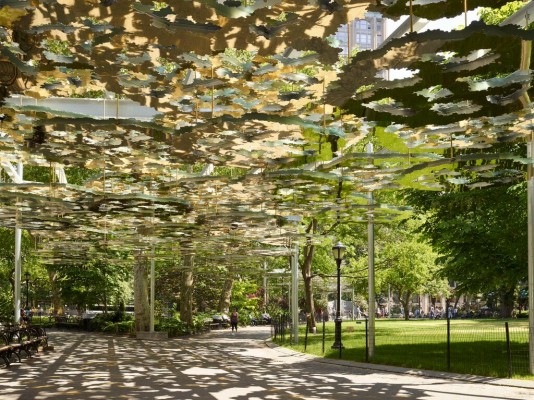 Fata Morgana: A Special Tour with Teresita Fernández at Madison Square Park, NY.. Spend an afternoon at Madison Square Park exploring the ever-changing wonders of Fata Morgana with its creator, Cuban-American artist Teresita Fernández. Fata Morgana is Madison Square Park Conservancy's largest and most ambitious outdoor sculpture to date. The outdoor sculpture consists of 500 running feet of golden, mirror-polished discs that create canopies above the pathways around the Park's central Oval Lawn.
This event is free and open to the public. Visitors are advised to arrive in the park around 11:30 am to walk around and experience the work on their own. THE GROUP SHOULD ASSEMBLE AT THE PARK'S NORTH FOUNTAIN MONUMENT BY 12 NOON to meet Ms. Fernández, who will give a talk and tour of the installation, followed by a Q&A with the public. For more information, write to cccofny@aol.com.
This exclusive event with artist Teresita FernándezCuba Art NY is co-sponsored by the CCCNY (Centro Cultural Cubano de Nueva York) and Cuba Art NY.
Sunday, August 2, 2015 @ 12 Noon
MADISON SQUARE PARK Madison Ave. & 23rd Street, NYC
---
Link to the original article