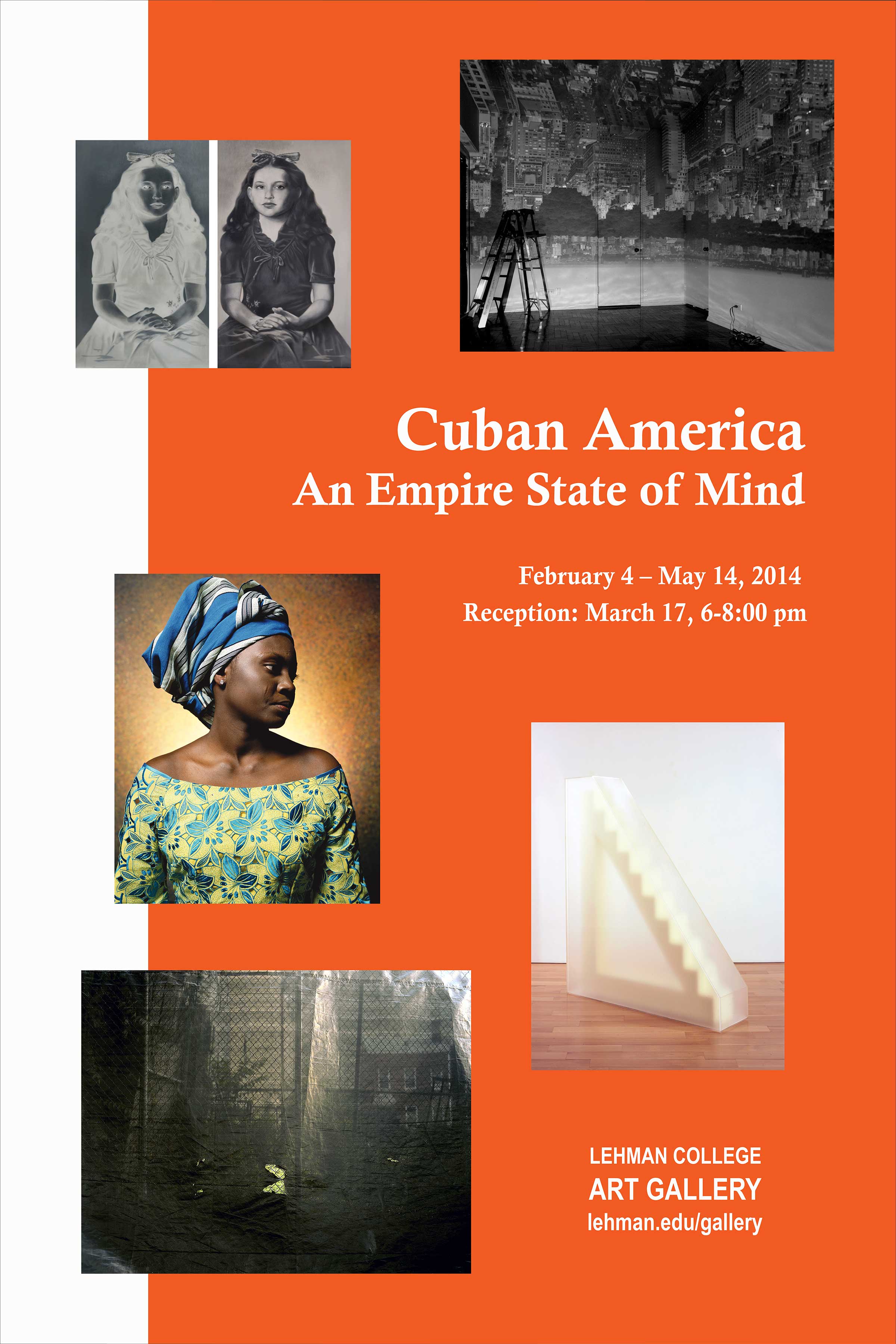 February 4 – May 14, 2014
Cuban America: An Empire State of Mind at Lehman College Art Gallery, Bronx, NY.  -Alejandro Aguilera, Jairo Alfonso, Alexandre Arrechea, Tania Bruguera, María Magdalena Campos Pons, Yoán Capote, Los Carpinteros, Luis Cruz Azaceta, Christian Curiel, Alessandra Expósito, Teresita Fernández, Carlos Garaicoa, Anthony Goicolea, María Elena González, Armando Guiller, Luis Mallo, María Martínez Cañas, Abelardo Morel, Gean Moreno & Ernesto Oroza, Glexis Novoa, Geandy Pavón, Emilio Pérez, Javier Piñón, Carlos Rodríguez Cárdenas, Andrés Serrano, & Katarina Wong.
Video program: Juan Carlos Alom, Allora and Calzadilla, Humberto Díaz, Felipe Dulzaides, Luis Gárciga, Tony Labat, Glenda León, and Ana Olema.
Co-curated by Yuneikys Villalonga and Susan Hoeltzel and includes a related Cuban video art program organized by guest curator Meykén Barreto. A series of special programs is conducted by guest curator Elvis Fuentes.
RELATED EVENTS
Panel: In A Material World: Cubans Discuss Their America, moderated by Elvis Fuentes – March 18, 2014 – 6pm
Talk and Tastings: Cuban Cuisine, by a Havana Central Restaurant Chef – May 14, 2014 – 1pm
Reception: March 17th, 2014, 6:00 – 8:00 pm
The reception will include a special performance by artist Carmelita Tropicana
Lehman College Art Gallery 250 Bedford Park
Boulevard West
Bronx, N.Y. 10468
---
Link to the original article