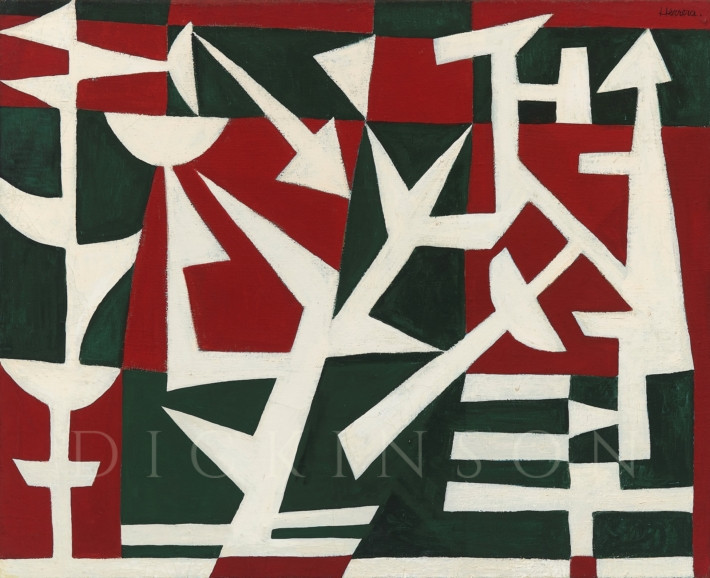 Dark red, military green and white, these three simple colors pop out of Field of Combat, a painting from 1952. Carmen Herrera is the Cuban-American artist who created the work.
The abstract piece made up of these stark colors is the highlighted work at Dickinson's TEFAF Online New York 2020 presentation. Currently, the private auction house, Dickinsons New York, is presenting an exhibit called "Carmen Herrera in Paris."
It includes eight paintings dated from 1949-1953, including Field of Combat. During this time, Herrera lived in Paris, France. She responded to the European avant-garde. She engaged with the Bauhaus and Russian Suprematism. One of Herrera's first mature pieces Castilla la Vieja [Venetian Red, White and Black] (1949) is also featured in the show. Dickinsons is also presenting three pieces inspired from Herrera's trip back to Cuba during the holidays in 1950.
Unlike her sharp paintings, Herrera is a lively character. At 105 years old, she is finally getting the recognition she deserves. Not only was she a woman in a male dominated field but she was also a Cuban exile. About her late fame, she expressed: "If you wait for the bus, it will come. I waited 98 years for the bus to come."
All works are for sale and on display from 2 November – 27 February, 2021 at Dickinson New York, 980 Madison Ave, New York.
---
Link to the original article