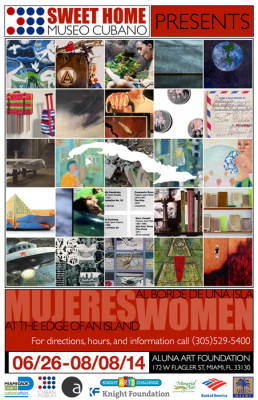 June 26 – August 8, 2014
"Women at the Edge of an Island", at Aluna Art Foundation, MiamiThe Cuban Museum, Inc. and the Aluna Art Foundation are proud to announce the upcoming exhibition Women on the Edge of an Island / Mujeres al borde de una isla, a group show that includes 23 visual artists from the Cuban Diaspora who explore through art the complex realities of displacement, biculturalism, separation, national identity, and personal and family upheaval that results from the experience of migration and exile.
This program is part of the Cuban Museum's Sweet Home Museo Cubano Series, made possible by an Arts Challenge Grant from the John S. and James L. Knight Foundation; the Miami Dade County Department of Cultural Affairs, Board of County Commissioners of Miami-Dade; and additional support from Bank of America, Memorial Plan, ArtesMiami, and Friends of the Museum.
The show has been curated by Jesús Rosado and Ileana Fuentes and represents a collaborative effort with the Aluna Art Foundation. The exhibition opens on Thursday, June 26, 2014 with an opening reception at 5:00 pm.
Included in the exhibition are Miami-based artists María Brito; Margarita Cano; Consuelo Castañeda; Elizabeth Cerejido; Liliam Cuenca; Ana Albertina Delgado; Demi; Liliam Domínguez; Ivonne Ferrer; Nereida García-Ferraz; Laura Luna; María Martínez-Cañas and Angela Valella. They are joined by Spain-based Lien Carrazana; Ana Ferrer and Gladys Triana from New York; Rosa Irigoyen, from Puerto Rico; Elizabeth Mesa-Gaido, from Kentucky; María Lino and Silvia Lizama from Hollywood, Florida; Boca Ratón-based Juana Valdés; Clara Morera, from North Carolina; and Lydia Rubio, presently residing in Colombia.
Aluna Art Foundation 172 B West Flagler Street 
Miami, Florida 33130
Opening reception: Thursday, June 26, 2014 at 5:00 pm.
---
Link to the original article