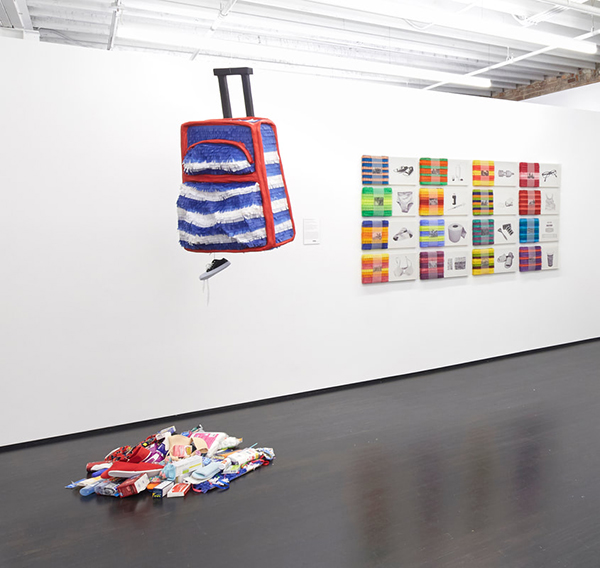 Multidisciplinary artist Elizabeth Mesa-Gaido is currently participating in A Common Thread: Textiles Past & Present. She expresses themes related to her experience as a Cuban exile in her work. In Cuban-American Piñatas, she wove together colorful fabrics into suitcase-shaped piñatas. They represent her journey back to her homeland. Like many other Cuban-Americans, she visited the island with her family. They carried suitcases packed with goods and supplies to distribute to those in need.
The piñata suitcases allude to the concept of redistribution of goods, which is the basis of communism. Even though pinatas are typically Mexican, the artist uses them to highlight a communal activity. Each person picks a ribbon and grabs the shared goods within. "It's ironic because we think of communism as a group activity, and yet for many, it hasn't worked out so well when commodities cannot be distributed to everybody that needs them," expressed Mesa-Gaido.
Her Cuban-American Piñatas and other works are currently part of A Common Thread: Textiles Past & Present. The exhibit showcases contemporary innovations in textile art. It will be on display through Jan. 9, 2021 at The Art Center of Greenwood in South Carolina.
She is currently Professor of Art at Morehead State University.
Check out more articles about Mesa-Gaido from the CANY blog!
---
Link to the original article