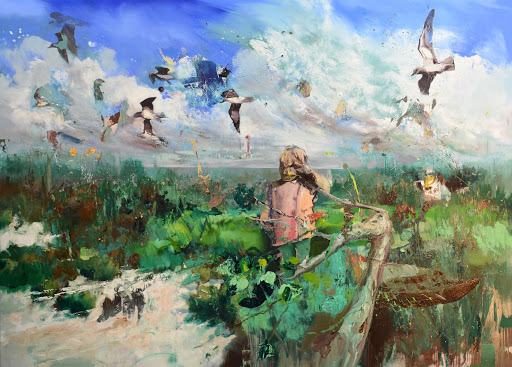 Waltman Ortega Fine Art is pleased to announce the opening of the exhibit "Selected Works" by Dayron Gonzalez.
Dayron Gonzalez is a Cuban artist based in Miami and is considered as one of the most recognized Abstract-Expressionist artists whose work has attracted international acclaim.
Dayron Gonzalez's artworks are intense reflections on the nature of representation, public and private memory, the construction of history, and the shifting nature of identity. The subject is humanity – portraits, self-portraits, anonymous figures, historical figures, figures in nature, figures in interiors. Gonzalez's figures embrace both the profundity and the ennui of existence – popes and presidents, politicians and party-goers, children and the elderly.
Graduated with a degree in painting from Academia Nacional de Bellas Artes San Alejandro, Havana, Cuba (2007) and one year studies at the Instituto Superior de Diseño Industrial (ISDI), Havana, Cuba (2000 – 2001) this young artist was born in 1982 in Quivicán town, in the province of Havana. As a founding member of MAKINAH- an independent association of contemporary Cuban artists, Dayron participated in collective performance art executing live installations and experimental actions with social and political connotations.
February 19 to April 5
Waltman Ortega Fine Art
2300 N Miami Ave, Miami
---
Link to the original article