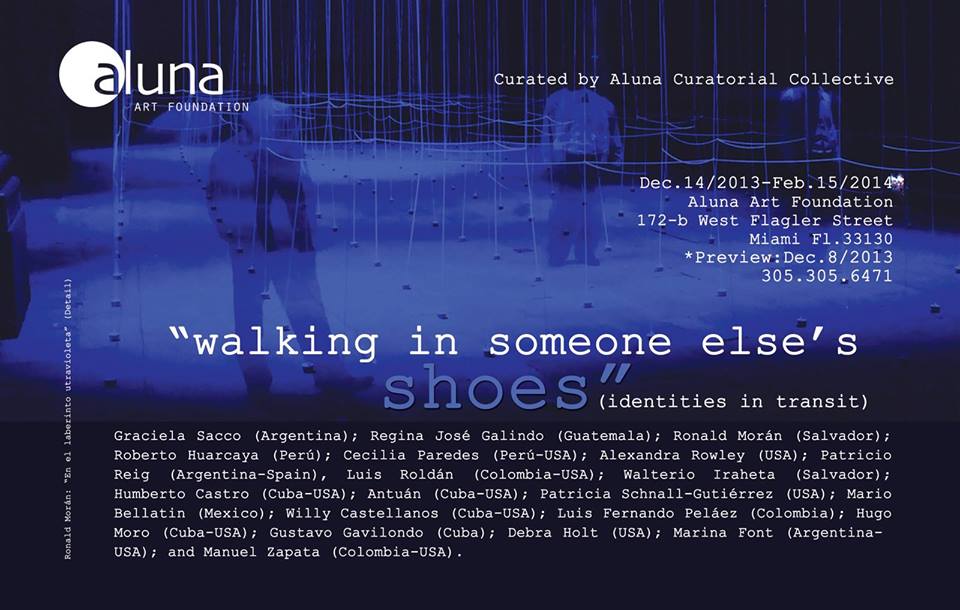 Until Febrary 25, 2014
Aluna Art Foundation
172-b West Flagler Street, Miami, Fl.33130
The exhibition "Walking in Someone Else's shoes (Identities in Transit)" at Aluna Art Foundation in Miami, gathers together a group of contemporary works that revolve around the transhumance as a method, and that reflect the restless landscape of individuals and communities who walk in turbulent times.
Many works include the concrete representation of the shoe and a poetry of it which is linked to individual transit, to intimate forms of memory, and last but not least to the course of collective history, including the migration routes, and the traces of exodus or a psycho-geographic vision of the scenery of disappearances.
The participant artists are Graciela Sacco (Argentina), Patricio Reig (Argentina/España), Marina Font (Argentina/USA), Roberto Huarcaya (Peru), Cecilia Paredes (Peru/USA), Luis F. Peláez (Colombia), Linda Pongutá (Colombia), Luis Roldán (Colombia/USA), Manuel Zapata (Colombia/USA), Andrés Michelena (Venezuela/USA), Felipe Ehrenberg (México/Brazil), Mario Bellatín (Peru/ Mexico), Regina José Galindo (Guatemala), Ronald Morán (Salvador), Walterio Iraheta (Salvador), Antuan (Cuba/USA), Humberto Castro (Cuba/USA), Willy Castellanos (Cuba/USA), Gustavo Gavilondo (Cuba/USA), Hugo Moro (Cuba/USA), Debra Holt (USA), Patricia Schnall Gutiérrez (USA), Alexandra Rowley (USA), y Xavier G-Solis (Spain).
---
Link to the original article