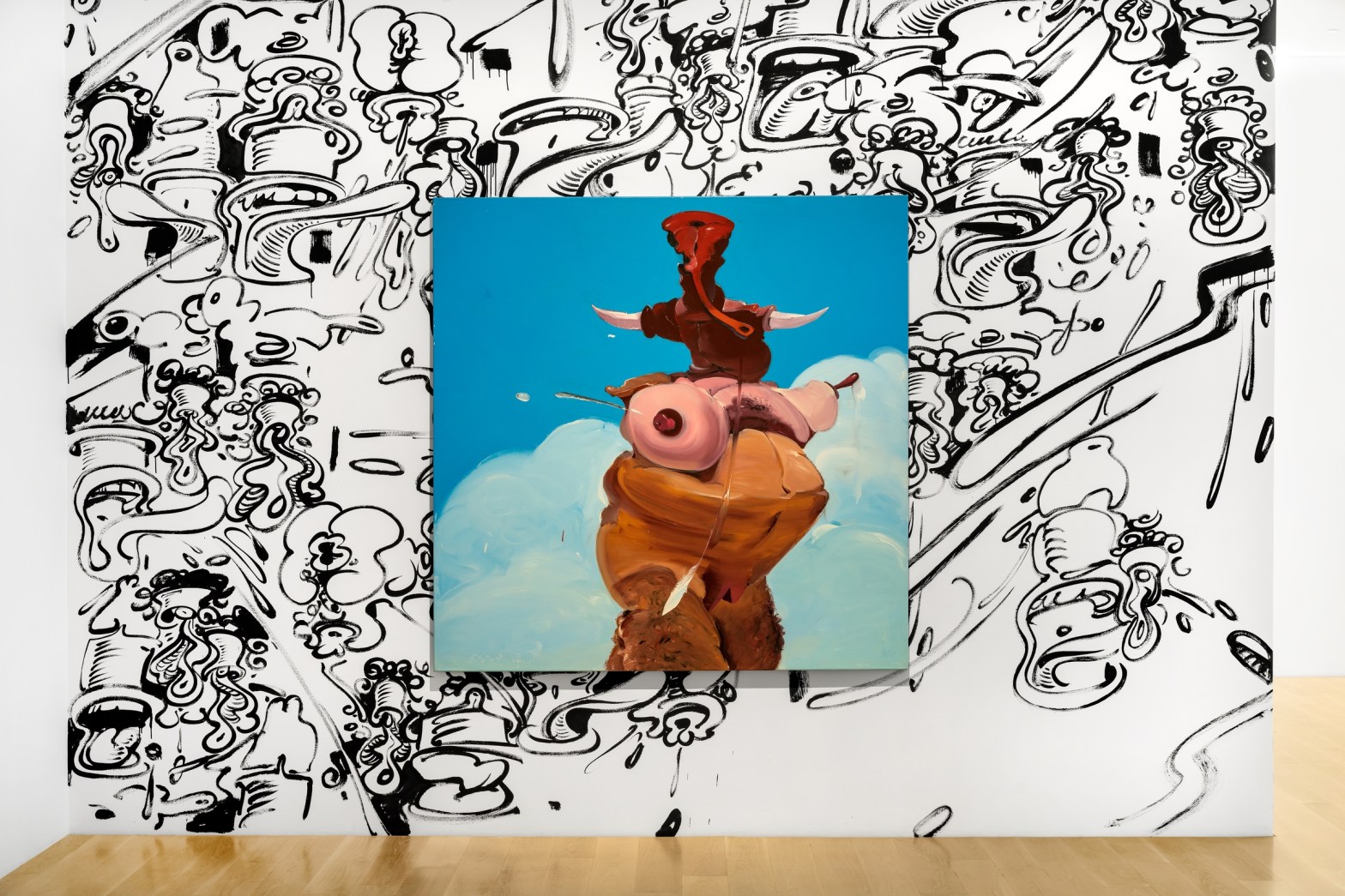 Grotesque body parts emerge from surreal backdrops in Tomas Esson's work. The artist said that his work highlights "the fundamental elements of human life: the vagina, the breast, the mouth, the anus and the penis." The Cuban-American painter created a lively large scale mural for his first solo museum exhibition. Until May 2, 2021, the Institute of Contemporary Art in Miami (ICA Miami) presents Tomas Esson: The GOAT.
"Wet Wall Drawing at ICA" (2020) spreads across a gallery-length wall at the Institute of Contemporary Art in Miami (ICA Miami). The mural includes "Retrato #29 (Portrait #29)" (1998), one of his earlier works. In this painting, a horned creature lactates from large udders on a canyon. Behind the juxtaposed images is a dream-like blue sky. He intertwines graphic black and white drawings with colorful symbolic paintings. Full of dynamic energy, the paintings incorporate political commentary with stark mythology. They are reminiscent of Salvador Dali's iconic masterpieces.

The Miami show brings together works from his thirty-year studio practice. Esson was born in Havana, Cuba in 1963. In 1987, he graduated from the Instituto Superior de Arte in Havana. His first exhibition in Havana in 1988 was censored. The Cuban authorities shut it down because his work criticized the communist government. In "Mi Homenaje al Che (My Homage to Che)" (1987), a beast and a human are lustfully embraced next to an image of the ruthless communist dictator.
Meanwhile, the David Lewis Gallery in New York is currently showing KRAKEN. They recently started representing the artist. KRAKEN is the artist's first solo show at the gallery. The display includes his series of Fidel Castro portraits. It also presents Miami Flow, a series that combines animation with abstraction.
---
Link to the original article