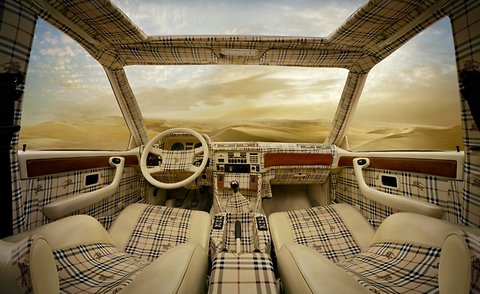 The New York Times
September 21, 2011, 6:00 am
By PHIL PATTON
"Decepción," the title of Luis Gisbert's show at the uptown Mary Boone Gallery, at 745 Fifth Avenue, translates from the Spanish not to its English cognate, but more literally to disillusionment or disappointment. The word applies to the effect of the huge photographs in the show, which depict fantasy landscapes seen through the windshields of luxury vehicles.
The photographs pair interiors of BMWs and Cadillacs strewn with designer logos with images of mountains and meadows, the dreamscapes to which plush S.U.V.'s promise to carry their charges.
Mr. Gispert, born in Jersey City in 1972, now lives in Brooklyn. He has explored his Cuban American background and borrowed totems of hip-hop culture in his past pieces: gold jewelry, boom boxes, big speakers, large chrome wheel rims. In a video piece called "Block Watching," he depicts a cheerleader mouthing the sound of a car alarm.
---
Link to the original article