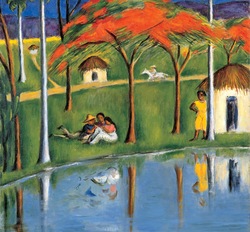 The Cuban Foundation Museum is home to one of the most important collections of Cuban fine art outside of Cuba. The collection chronicles 300 years of Cuban history and art in more than 200 objects. Highlights include extremely rare eighteenth, nineteenth and early twentieth century maps, documents, lithographs, paintings, furniture, sculpture, and ceramics.
In 1957, approximately one year before the fall of his presidency, Cuban President Fulgencio Batista, a regular vacationer and resident of Daytona Beach in the 1940s and 50s, gave much of his extensive collection of Cuban art "to the city and people of Daytona Beach." This collection forms the core of The Cuban Foundation Museum which has been housed at the Museum of Arts & Sciences for over 40 years. Included in the exhibit are works by famous Cuban painters such as Miguel Melero, Leopoldo Romanach, and Jose Joaquin Tejada. Twentieth-century artists represented include Victor Manuel, Armando Menocal, Amelia Pelaez, Mario Carreno, Rene Portocarrero, and Daniel Serra-Badue.
The Cuban Museum's primary goal is to give Cuban Americans a rare glimpse into their rich cultural heritage through artworks ranging from the Spanish Colonial period to modern times. MOAS endeavors to share these cultural treasures with the general public in an attempt to foster a better understanding of Cuban history and tradition.
---
Link to the original article