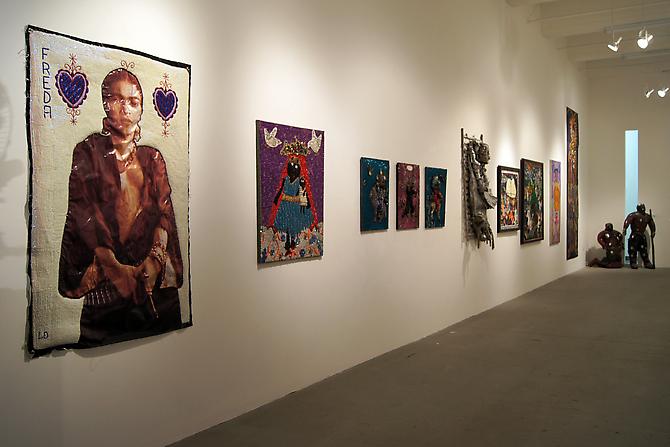 Until February 23, 2014
BrutEdge Gallery   Mana Contemporary Arts Complex, Space 574. 888 Newark Avenue, Jersey City, NJ 07306.
Spirit Migration: the flowing, the fleeting, the spectral, at BrutEdge Gallery, Newark, NJ.  -Ebbing between existential angst and glimmers of that which endures beyond us, art that attempts to represent that supernatural domain just beyond reach is universally recognized as part and parcel of the very impetus to create. In the Caribbean especially, where cultures have crashed together, battled and become an assemblage of disparate ideas and customs – it is religious or spiritual art that challenges viewers most directly with representations of the sacred and the profane.
A spectre of the sacred often haunts contemporary afro-caribbean art, whether by directly aspiring to represent a spiritual ideal allegorically or by virtue of reminding us through the use of materials that the profane sphere, that of everyday human experience, is mostly devoted to the pursuit of worldly desires. These desires represented by materials encoded from their previous purposes, now coated with the residues of decay, destruction and the passage of time, function as memento mori. It is this interpenetration of the sacred and the profane – as a flowing, fleeting and spectral experience that this exhibit highlights with a selection works of Haitian and Cuban artists.
---
Link to the original article