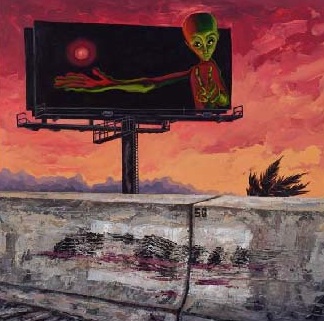 On View June 6 through July 27, 2014
Opening Reception: Saturday, June 7, 7 to 9 p.m.
Farside Gallery
1305 SW 87th Avenue,
Miami, FL 33174
"Scaping Back": Exhibition of Works by Artist Ramón Williams at Farside Gallery, MiamiRamón Williams was born in Havana, Cuba is 1969. He graduated from the Instituto Superior pedagógico in La Habana with a MasterDegree in Visual Arts in 1992. Between spring and summer of 1996, Ramón Williams exhibited in Havana two groups of paintings: Imágenes de la enciclopedia and La mar estuvo serena. By the end of the same year Williams emigrated to Miami, Florida. Living and working in this city during the last eighteen years, his artistic endeavors yielded to the exploration in the realms of photography,video and computer animation. Walls and contentions barriers all over the city have been subject to a sort of poetic CSI lens in Williams's hands, where spontaneous perception and dedicated capture of traces interweaves with his skills for computer generated imagery, and his fondness for oriental calligraphy, stream of consciousness writers …and some psychiatry lab tests. As a comeback to the days of pigments (somehow aconsequence and turnaround of the lens, the image in movement, and the 3D world), Scaping Back titles a selection of Ramon Williams recent Miami roadscape paintings that will be exhibited at Farside Gallery on June 7th, 2014, for the first time in the USA.
---
Link to the original article