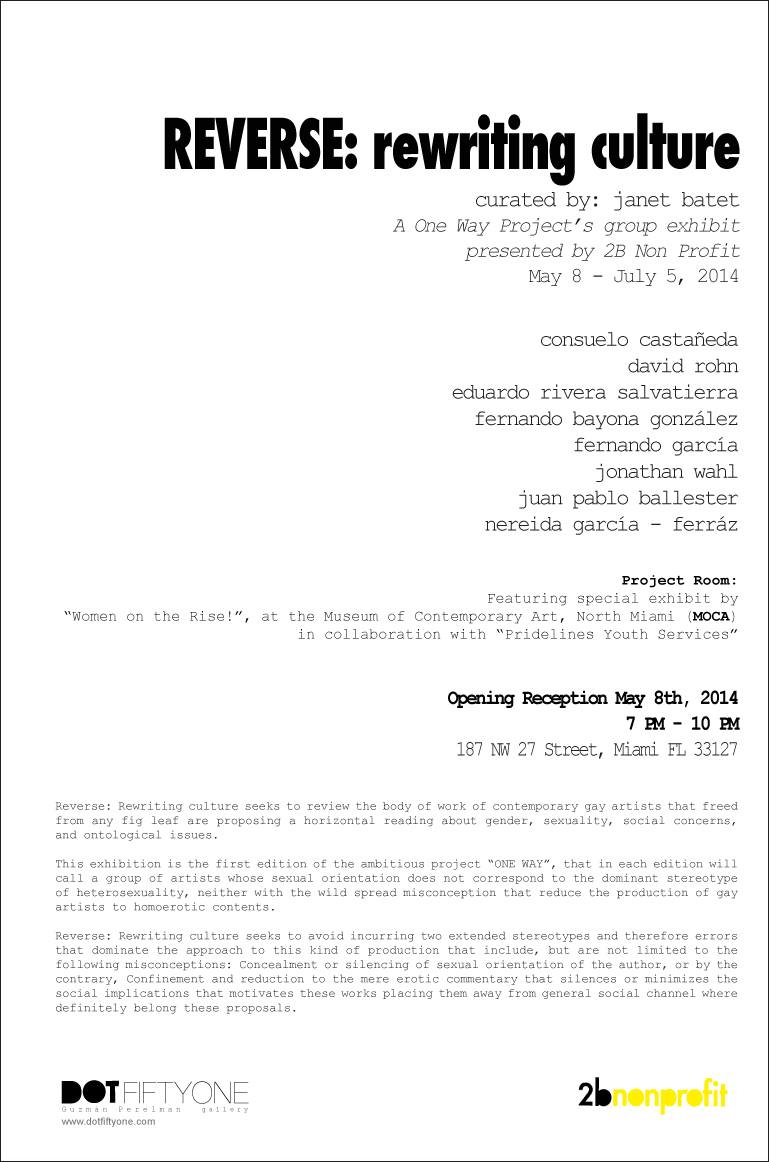 May 8th – July 5th, 2014
Opening Reception | Thursday, May 8th | 7 PM – 10PM
Dot Fiftyone Gallery
187 NW 27 Street Wynwood Arts District, Miami FL 33127
Artists:
Consuelo Castaneda, David Rohn , Eduardo Rivera Salvatierra, Fernando Bayona González, Fernando García, Jonathan Wahl, Juan Pablo Ballester and Nereida Garcia-Ferráz
Reverse: Rewriting culture seeks to review the body of work of contemporary gay artists that freed from any fig leaf are proposing a horizontal reading about gender, sexuality, social concerns, and ontological issues.
This exhibition is the first edition of the ambitious project "ONE WAY", that in each edition will call a group of artists whose sexual orientation does not correspond to the dominant stereotype of heterosexuality, neither with the wild spread misconception that reduce the production of gay artists to homoerotic contents.
Reverse: Rewriting culture seeks to avoid incurring two extended stereotypes and therefore errors that dominate the approach to this kind of production that include, but are not limited to the following misconceptions: Concealment or silencing of sexual orientation of the author, or by the contrary, Confinement and reduction to the mere erotic commentary that silences or minimizes the social implications that motivates these works placing them away from general social channel where definitely belong these proposals.
---
Link to the original article