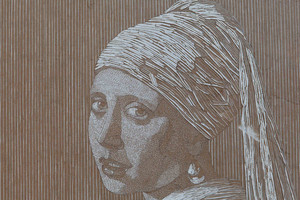 JUANA VALDES
My artwork is a multi-disciplinary practice that combines the process of printmaking, photography, sculpture and ceramic. It integrates the social-political discourse within the art object to analyze relationships between contemporary and historical imagery and their connection to the social, political and economical dominance of the cultures that produce them and their impact on cultural memory.
PAVEL ACOSTA
All my work revolves around stealing. In Cuba, after graduating from the Higher Institute of Art and with little access to unaffordable art materials, I stole dry paint from the crumbling city walls and the objects around me to do collages of recycled paint on paper and canvases. I wanted to survive as an artist in the same way people does in Cuba – smuggling the State resources within the black market as the way to compensate for low salaries and scarcities. I was interested in exploring the boundaries between destroying something, or commiting a crime and creating, as well as the concepts of etics and morality within my society.
Guttenberg Arts is dedicated to promoting the visual arts by providing practicing artists with the space and time to develop their work while engaging with the public. Guttenberg Arts aims to increase opportunities for supported artists by expanding their community through artistic collaborations and promotion to curators and collectors in the tri-state area.
---
Link to the original article