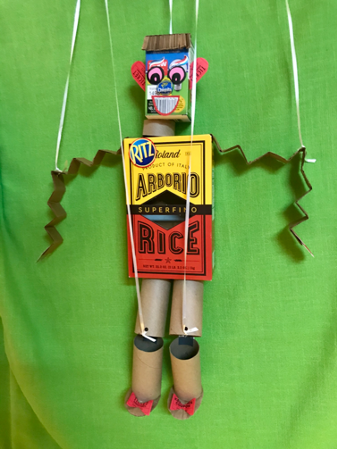 Virtual Resource – At home Art activity
Nova Southeastern University Museum of Art in Ft. Lauderdale is proud to present Pablo Cano's "Marvelous Marionette." The Cuban-American artist is best-known for his marionettes. Cano makes puppets out of objects he finds every day. He combines items like empty cardboard boxes of Arborio Rice, Bigelow Green Tea, and Ronzoni pasta to create the puppets. He uses the empty rolls of toilet paper and paper towels for the puppet's arms and legs. Then, he glues them with Elmer's glue, and he secures them together with ribbon and masking tape. Finally, he finishes them off with a colorful face. He paints a comical caricature onto a cardboard box. Like Pinnnchio, the puppets come to life with the artist's inspiration. The artistic Geppetto implements includes the marionettes into his performance.
"I realized that puppetry and marionettes had everything I loved about art," expressed Cano. "Like an operatic play, I could incorporate music, painting, sculpture, theater, and acting," he continued. He created short musical vignettes for his performances. A lifelong passion, his musical marionettes delight audiences of all ages.
Cano's enchanting musical marionettes will be part of a special performance, part of Free First Thursdays Starry Nights. PNC Arts Alive presents the show. An interactive take home activity for kids is also part of the exhibit.
Born in Havana, Cuba in 1961, Pablo Cano now lives and works in Miami. Cano's work is part of the collections of the Cintas Foundation. His work is also included in the of permanent collections of The Lowe Art Museum University of Miami, Florida, the NSU Museum of Art, Fort Lauderdale, Florida, The Perez Art Museum Miami, Florida, The Young At Art Museum, Davie, Florida, and Museum of Contemporary Art, North Miami, Florida.
Click here to read more about Pablo Cano in the CANY blog.
---
Link to the original article