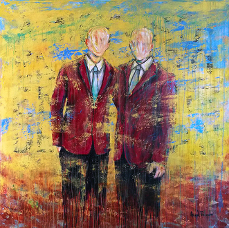 New York, NY. Cuba Art New York (CANY), whose mission is to promote the work of Cuban American artists, is pleased to announce CANY Online Gallery and its coming inaugural online exhibit New Beginnings, Summer 2020.
After a hiatus, CANY is back with an invigorated vision and strategy. Our new endeavor, the CANY Online Gallery, comes at a time when the art community has been hit hard by the global pandemic.
New Beginnings, Summer 2020, will be on view from August 1st to August 31st at CanyOnlineGallery.org. It will showcase the work of eight talented Cuban American artists: Jairo Alfonso, Julio Antonio, Ángel Delgado, Alain Pino, Carlos Rodríguez Cárdenas, Baruj Salinas, Rubén Torres Llorca, and Pedro Vizcaíno, from different generations and with different approaches to artistic expression. They are connected not only by place of origin, culture, displacement and life experiences but by their exceptional talent. They are all powerful ambassadors of Cuban contemporary art.
New Beginnings, is the first of four annual exhibitions that CANY Online Gallery will organize every year, coinciding with the seasons. The gallery will also feature art for sale from past and future exhibits as well as donated works.
---
Link to the original article