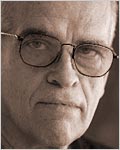 A brief note to inform you that Miguel Loredo the artist we knew, loved and respected passed away Saturday September 10, 2011.
The wake will take place on Wednesday September 14 from 3 a 6 PM at the church of San Francis of Assisi, 135 W 31st Street, New York City, NY. Ceremony at 5:00 PM.
The funeral mass will take place on September 15 at 10:00 AM in the church of Saint Francis of Assisi. The celebrant will be John O'Connor OFM.
Burial will be at the Holy Sepulchre cemetery in Totowa, New Jersey.
---
Link to the original article