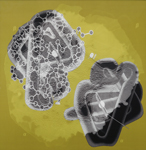 Oct. 8 ­- Dec. 18, 2011
Williams Center for the Arts
Lafayette College
Easton, PA 18042
Artist's talk on Monday, October 17, 4:10, Williams Center 108, reception to follow.
Cuban-born photographer Maria Martinez-Cañas brings a sense of her own history and past, as well as a fresh and experimental attitude, to all of her work. Over the last 30 years she has used virtually every photographic medium in realizing these ideas; since 2005, she has concentrated on several series that are more personal in their exploration of her identity.
This exhibition is part of Lehigh Valley Photography Month, November 2011. More than 40 local galleries and arts organizations will showcase a vibrant selection of contemporary and traditional photography throughout the Lehigh Valley.
---
Link to the original article