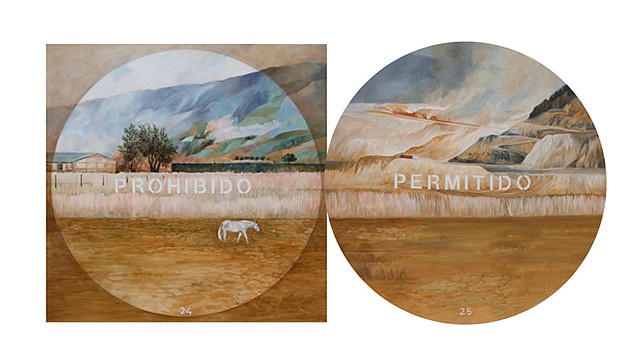 "It is forbidden now to paint landscapes like this," stated Cuban-American artist Lydia Rubio. She refers to landscapes such as those in her titular painting Prohibido. A cow is seen grazing peacefully on a pasture with her calf. It is a sight often unseen in our industrialized Western society. Agriculture has become a machine that has separated us from nature and even distorted it. Prohibido (Forbidden): Subversive Landscapes invites us to question our relationship to the natural world and glimpse into a simpler time.
The exhibition, which takes place at Elevated Matter in Hudson, NY, pieces together thirteen intricate oil paintings and an oversized travel journal, created from 1992 to 2014. In the journal titled Genius Loci, she quotes two other adventurous painters, Alexander von Humboldt and Frederic Church. The two men traveled to the Savannah of Bogota, Colombia in the 19th century and painted landscapes. Just like her, they were strangers in a foreign land.
The title of the show also alludes to her being a "time-traveler." She was displaced from her origins in La Habana, Cuba to the Hudson River. Rubio depicts nature in a style similar to the Hudson River School, naturalistic and raw. For over four decades, the artist has perfected the traditional style of oil painting using the old masters' approach.
In other pieces, such as MESA and El Dorado, she refers to the destruction of Mother Earth through mining practices and the displacement of native cultures. Throughout her work, Rubio draws attention to ecological issues such as climate change, a problem affecting the Hudson River Valley.
"My intention has been to create an awareness of the various perceptual, symbolic, and environmental conditions that affect our experience of nature today and its representation in painting. Nature connects us to higher levels of feelings that are of vital importance," expressed Lydia Rubio.
The painter's first solo exhibition, Prohibido, is on view until July 25, by appointment only.
---
Link to the original article