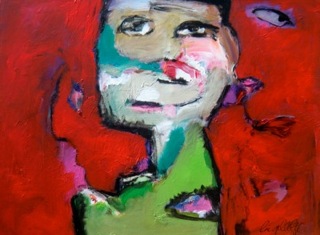 September 9th – October 1st, 2011
OPENS: Friday, September 9th, 2011 / 5pm – 7:30pm
ALLIANCE FOR THE ARTS
10091 McGregor Boulevard
Fort Myers, FL 33919
Fresh off her studio in Fort Myers, this show represents Cuban born artist Lia Galletti's most recent work, encompassing the last three years. Spaciously opening onto the Caribbean and saturated with drama and color, the artist's paintings are abstract in style; they can be read like an experience emanating from the subconscious, the substance of which is filled with enigmatic images. The impact on the viewer is sensory, and further, the sensation is intensely introspective and surreal.
"I create my art to seek balance in my everyday life and an order within my innermost state of mind in the search for truth in myself and to transform my primitive expression into a universal image, refined through many layers of the ego. That order creates itself before my eyes at the tip of my brush, without a plan or previous knowledge. I let my hand explore at random while staining the canvas without a specific idea, other than to make my vision a reality."
---
Link to the original article