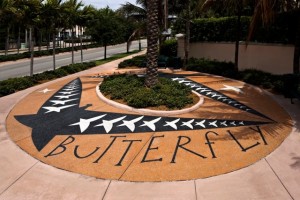 Of time and place
José Bedia- Designs for plazas along Crandon Boulevard, Miami.  Eight artist-designed plazas strung along Crandon Boulevard celebrate Key Biscayne's island lifestyle and environment
The Miami Herald, June 19, 2011
BY BETH DUNLOP
Key Biscayne has always been a magical place. The condos have come and conquered. The strip shopping centers line too much of Crandon Boulevard. There's plenty of traffic. And yet, somehow despite everything, it still feels, and looks, like an island.
There is no better reminder than the series of eight small public plazas — place makers, really — created under the auspices of Key Biscayne's admirable, ambitious and even visionary public-art program. They are works that speak to time and place, nudging us to pause and think about the island's fragile ecology.
Seven of the plazas were designed by the Cuban-born Miami artist Jose Bedia and the last by the American-born artist Sarah Morris, who is based in London and New York. Wrought in terrazzo (by Bedia) and tile (by Morris), these installations offer momentary respite or the opportunity for long contemplation. Bedia's, in particular, are a reminder of the fragility of the environment, though a long look at Morris' two tiled pools might yield the conclusion that rather than being merely abstract geometries, they might also be saying something about a once-lush, once-native landscape now crisscrossed with roadways.
---
Link to the original article