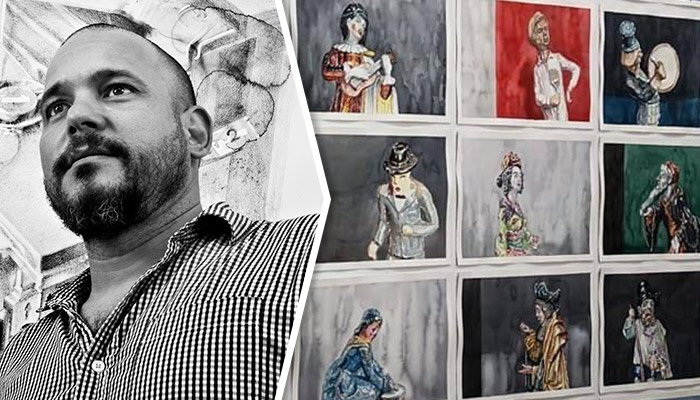 Cuban-American artist Jairo Alfonso is a master of painting with watercolor pencil. The prestigious Phoenix Institute of Contemporary Art (phICA) is currently showcasing some of his latest works. The virtual exhibition "597" displays his remarkable gift of the watercolor pencil art. In his large black and white pieces, he creates beautiful works of art with an amalgamation of various household or found objects. They entice the viewer with recognizable artifacts. The lack of color adds to the sense of history in the paintings. Jumbled together, the items (a guitar, an old shoe, or a figurine) appeal to one's sense of discovery. The title of the show "597" refers to the number of items that he painted in the works combined.
Alfonso is known as an "artifact miner" as well as a visual artist. But he also gifted at creating installations, sculptures, performances, and video. He even stated, "I pair the act of drawing with that of consuming goods," in a press release for his 2019 exhibit "Useless: Machines for Dreaming, Thinking, and Seeing at the Bronx Museum of the Arts." His works often explore "hoarding as a clear sign of consumerism, and anxiety before economic crisis." But, during the pandemic, the artist branched out into figurine painting.
In 2020, when the pandemic hit New York City, Jairo Alfonso set up a studio in his home. During this time, he explored his lifelong intrigue with figurines. He is fascinated with how they "portray different people, cultures, attributes, poses, moods." Alfonso decided to create a series of 100 colorful figurine drawings the same size of his laptop screen: 8 x 12 inches. He explained that his series of watercolor paintings are based on screenshots of the figurines, so they contain computer-created colors.
Jairo Alfonso was born in Havana, Cuba in 1974. He currently lives and works in New York City. In 2017, Jairo received the prestigious Pollock-Krasner Foundation Grant.
His work is available through the CANY Online Gallery
---
Link to the original article