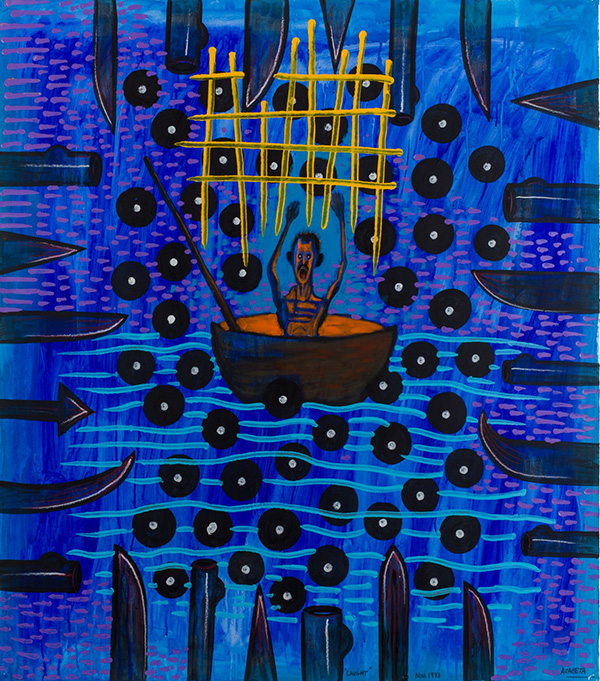 Contemporary Cuban Art is on the horizon at the Frist Art Museum. The museum is located in Nashville, Tennessee. The show features over fifty Cuban-American artists. On the Horizon: Contemporary Cuban Art from the Pérez Art Museum Miami Collection is the name of the large exhibit. It will present over seventy works. The show will open early next year at the museum's Ingram Gallery. Some of the artists include María Magdalena Campos-Pons (currently a professor at Nashville's Vanderbilt University), Yoan Capote, Los Carpinteros, Teresita Fernández, and Tomas Esson.
The paintings, photographs, sculptures, videos, and installations are taken from the Perez Art Museum Miami Collection. It is one of the largest public collections of Cuban art in the United States. On the Horizon engages participants in a discussion about the landscape of the island.
The political situation in Cuba inspires many of the pieces. For example, the featured image from Luis Cruz Azáceta titled Caught, 1993. The abstract painting portrays a balsero or Cuban rafter seeking freedom. The lone figure against a horizon on a deep blue sea displays their bravery. Furthermore, the horizon symbolizes existential longing or a desire to return somewhere unattainable. Many of the Cuban refuges can relate to this feeling. The works serve as a good example of creative expression with an authoritarian system.
---
Link to the original article