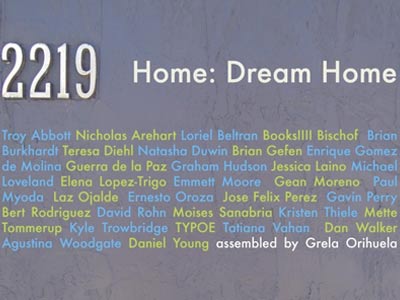 From Jul 9 through Aug 13, 2011.
Praxis International Art
2219 NW 2nd Avenue Miami, FL 33127
Home: Dream Home is a diverse group of works by some of the most cutting edge artists currently living and working in Miami (and a couple of out of town guests). The exhibition is a reflection of a dream home with all the manifestations of furniture and décor placed within a gallery setting.
Home: Dream Home is assembled by Grela Orihuela, Executive Producer of Wet Heat Project, the Miami-based company that produces original films, events, and web destinations about contemporary artists and art professionals, such as wetheat.tv, miamiHeights, and HOTBED Miami.
Featured artists include Troy Abbott, Nicholas Arehart, Loriel Beltran, BooksIIII Bischof, Brian Burkhardt, Teresa Diehl, Natasha Duwin, Brian Gefen, Enrique Gomez de Molina, Guerra de la Paz, Graham Hudson, Jessica Latino, Michael Loveland, Elena Lopez-Trigo, Emmett Moore, Gean Moreno, Paul Myoda, Laz Jade, Ernesto Oroza, Jose Felix Perez, Gavin Perry, Bert Rodriguez, David Rohm, Moises Sanabria, Kristen Thiele, Mette Tommerup, Kyle Trowbridge, TYPOE, Tatiana Vahan, Dan Walker, Agustina Woodgate and Daniel Young.
---
Link to the original article