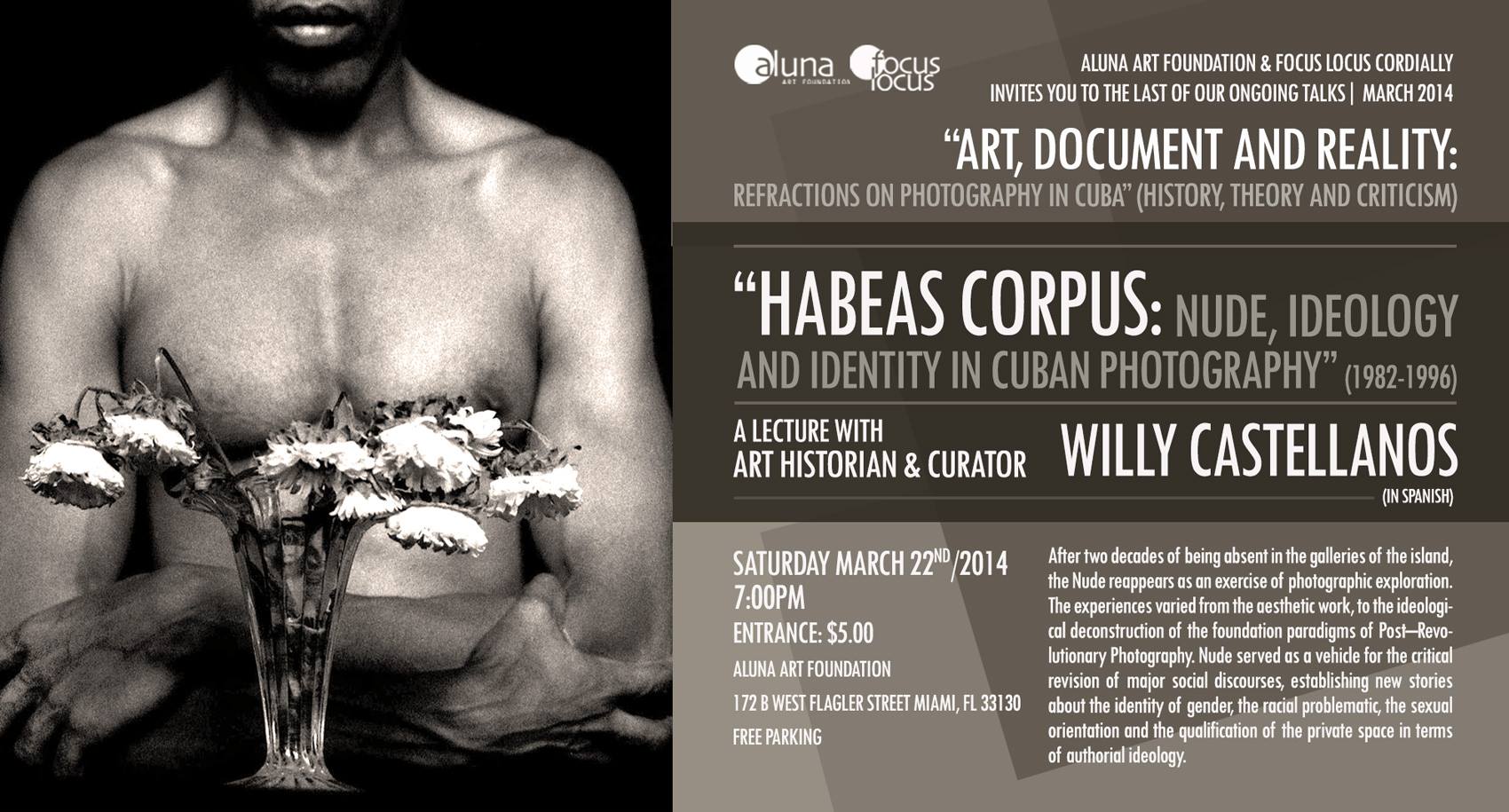 Saturday, March 22nd/2014 at 7:00pm
ALUNA ART FOUNDATION
172 B WEST FLAGLER STREET
MIAMI, FL 33130
Aluna Art Foundation & Focus Locus cordially invites you to "HABEAS CORPUS: NUDE, IDEOLOGY AND IDENTITY IN CUBAN PHOTOGRAPHY (1982-1993)", the last of our talks with art historian, curator and photographer WILLY CASTELLANOS; as part of the series "ART, DOCUMENT AND REALITY: REFRACTIONS ON PHOTOGRAPHY IN CUBA" (History, Theory and Criticism).
WILLY CASTELLANOS An art historian, curator and photographer, holder of a degree in History of Arts from the University of Havana (1993) were he graduated with a thesis on photography: "Nude as Objet and Strategy in Cuban Photography (1982-1993)"; Castellanos left Cuba in 1994 to Argentina.
In 2001, he moved to Miami, where he actually lives and works. His writings on art have been published in the magazines Fotomundo (Buenos Aires), Revolución y Cultura (Havana), P'alante Magazine/The Sun Sentinel (Broward, FL), Arte al Día International, LetraUrbana.com and Nagari Magzine, as well as in several exhibition catalogs in the United States.
In Miami, Castellanos was the Curator of the photography exhibition "Prayers for Saints and Orishas" at the Spanish Cultural Center of Miami (CCE), and also of "New Gods by José Franco," and "20 Brands by Felix Beltrán" (co-curated with Rafael López-Ramos) for the Miami Dade College Art Gallery System (AGC).
Castellanos is the co-author of the critical essay for the book of Cuban photographer Raúl Canibano published by La Fabrica (Madrid, 2012); and is currently working on the publication of two more books on Cuban contemporary photography.
His photographic essay "Exodus: a missing page in history", which documents the start of the massive wave of "rafters" that left the coast of Havana in 1994, was selected and invited in 2012 to open the Photoamerica edition of Arteamericas, the Latin-American Contemporary Art Fair of Miami. His shots have been featured in one-man and group shows in Cuba, Argentina, Brazil, and the United States.
---
Link to the original article