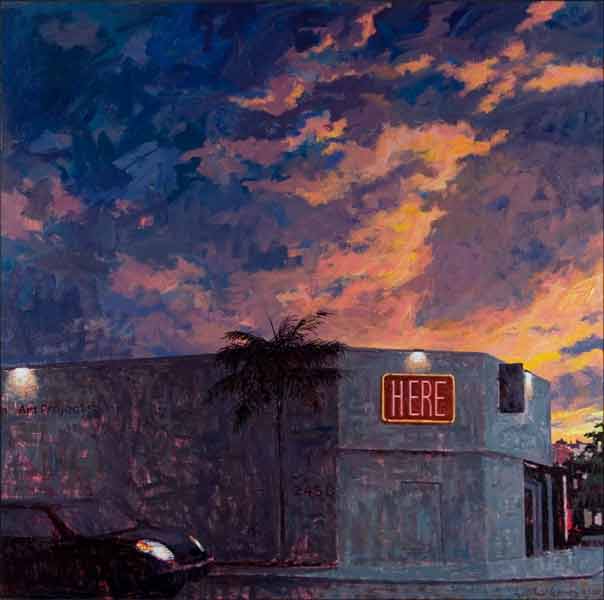 Miami, FL
January 8 – March 5, 2011
HERE
Open House Saturday, January 8  6-9 p.m.
Pan American Art Projects
2450 NW 2nd Ave.  Miami, FL 33127
t: 305.573.2400
Pan American Art Projects presents Gustavo Acosta: HERE a tribute exhibition to the city of Miami. Obsessed by the power of architecture, the artist traces the urban transformation of the city he calls home in this newseries of works. Having witnessed the real estate boom and economic crash that followed thereafter, Acosta's pieces encapsulate architectural giants in a stand-still moment; whether plummeting to ruins, being erected, orstanding strong amidst the chaos of a city of lost promise. Works like "Borrando las Huellas", which depicts collapsing buildings, and "One Day I Find Myself Building a Circus", a large canvas of the foundations of the new Marlin stadium, portray the city as a breathing entity; one that suffers with the collapse or construction of its parts; what is enfolding in each canvas is left up to the viewer to decide.
The pulsating city in Acosta's canvases is a city at conflict with itself. An undeniable nostalgia creeps through the artist's hectic brushstrokes. The emotional intensity of the artist's world is present as Acosta captures a fleeting moment in the trajectory of the city's day-to-day. Acosta has always made the cities in which he has resided the protagonists of his oeuvre. In this exhibition, we see Miami through the artist's eyes. He sets before us a map of his city: the places that define Miami as his hometown. HERE is Acosta's tribute to Miami, through these works the artist is embracing his role in the city; grounding his roots and proclaiming his sense of belonging HERE.
Gustavo Acosta has been living and working in Miami since 1994. Throughout his career he has exhibited in important public institutions worldwide, including: Museo Nacional, Havana, Cuba; São Paulo Biennial, São Paulo, Brazil; Museum of Fine Arts, Caracas, Venezuela; Palazzo Mediceo, Seravezza, Italy; Museum of Contemporary Art, Miami, Florida; and El Museo del Barrio, New York.
---
Link to the original article