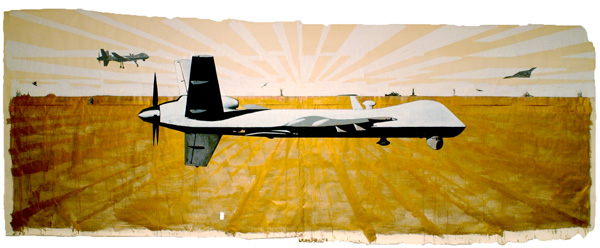 November 11, 2011 – January 7, 2012
Opening reception, Friday, November 11, 7 – 10pm
SALTWORKS  664 11TH ST NW  ATLANTA GA 30318
SALTWORKS is pleased to present a solo exhibition of new works by Glexis Novoa, on view from November 11, 2011 through January 7, 2012.
Continuing a search for parallels in social phenomena, Novoa's latest works present historical narratives of a dystopic society. The large mixed media works on paper, use metaphor to show the decaying centralizing force of past political icons and technology as the new dehumanizing enchantment. In Lenin | Miami Times, the head of a monumental sculpture of V.I. Lenin that is being dismantled becomes the distant planet of Saturn with its rings composed of faces, famous and unknown, taken at random from the local newspapers of Novoa's home in Miami. Novoa visualizes mass media's polarizing force and the disconnect between media and public. Novoa suggests the rapid dissemination of information by the few via mass media is just a new form of the old propaganda machine.
War is another manifestation of the absurd in the few controlling the masses. Here, technology takes the form of unmanned aerial vehicles or Drones, specifically the MQ-9 Reaper, used extensively by the military in Operation Enduring Freedom in Afghanistan. In Private Drone, a profile of the MQ-9 Reaper dominates a vast empty landscape except for distant monuments sitting on the horizon line and several other drones dotting the sky. Void of any human presence, the Private Drone centered in a golden starburst is an omnipresent anonymous entity. Novoa draws a dystopian world where identity is absent and the individual is displaced by technology.
Glexis Novoa was born in Holguín, Cuba, in 1964. He currently lives in Miami. He studied at Skowhegan School of Painting and Sculpture Skowhegan, Maine (1998), Escuela Nacional de Arte (ENA), Havana (1980-84), . He has exhibited widely in solo exhibitions in the United Sates, Latin America, and Europe. He has curated contemporary art exhibitions in Miami, New York; Ljublana, Slovenia; Monterrey, Mexico, and Havana. His work is part of many major public collections, including: American Express (Minneapolis), Federal Reserve Bank of Atlanta (Atlanta), Lowe Museum, University of Miami (Miami), Ludwig Forum Fur Internationale Kunst ( Aachen), Museo Histórico de Santa Clara (Santa Clara, Cuba), Museo Nacional de Bellas Artes (Havana), Fort Lauderdale Museum of Art (Fort Lauderdale), Nassau County Museum (Long Island, New York), Centro Wifredo Lam (Havana), Cintas Fellowship (New York), Craig Robins Collection (Miami Beach), Farber Collection (New York), Lehigh University Art Galleries Teaching Collection (Bethlehem, Pennsylvania), Mosquera Collection (Coral Gables), The Shelley & Donald Rubin Foundation (New York), and Sprint Corporation (Overland Park, Kansas).
During late eighties, Novoa was involved in the dynamic of collective creation that characterized the Havana art scene. As founder of the Grupo Provisional, he organized and co-curated several exhibitions and events with a strong focus on performance art. Over the years, Novoa has curated several group shows of emerging artists, connecting artists, political ideas and community.
INFO@SALTWORKSGALLERY.COM.  WWW.SALTWORKSGALLERY.COM
---
Link to the original article