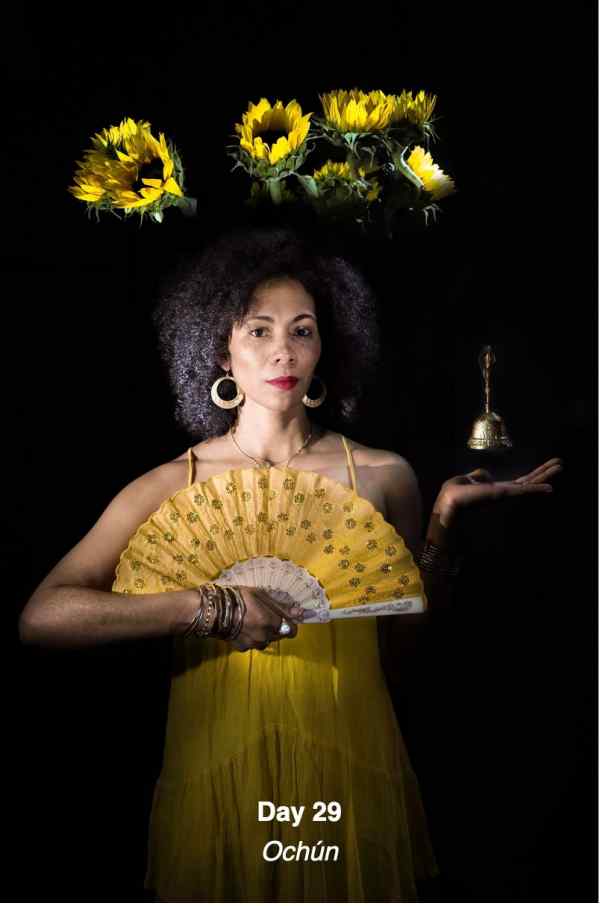 Photographer Geandy Pavon's Pandemic Art. The COVID-19 pandemic slowed down many artists due to the lockdown. Yet a few artists took the time behind closed doors to focus on new endeavors. In fact, some even created pandemic-inspired projects. Cuban-born photographer Geandy Pavon is one artist who saw the crisis of lockdown as an opportunity to transmute his energy into new works.
Together with his girlfriend Imara Lopez Boada, he conceived of "Quarantine: 40 Days and 40 Nights." She is also a Cuban-born artist. While New York was hunkering-down to prevent the spread of the virus, the two made Pavon's photographic vision a reality. For forty days, they created forty scenes filled with religious imagery and colorful backdrops. One of the photographs "Day 15, Salome" portrays Lopez Boada in the kitchen carrying the artist's roasted head. It is a reference to the Biblical story of John the Baptist. The theme of death was definitely on people's minds during this time. The artist actually played with the Italian origin of the word quarantine, which means forty. It refers to the number of days a ship suspected of carrying disease was kept offshore. He created forty striking photographs using only a 50-millimeter lens.
The incredulous images were displayed at the Art Museum of the Americas. Now, they are part of a new exhibition taking place at the The Lore Degenstein Gallery at Susquehanna University. Commonplace Attachments: Artistic Practice During the Covid-19 Pandemic will open on September 4, 2021 and will run until October 24, 2021.
Geandy Pavon was born in Cuba in 1974. He graduated from the National School of Fine Arts (ENA) in Havana, Cuba. He also studied at the School of Fine Arts El Cucalambé, in Las Tunas, Cuba. The artist moved to New York City in 1996.
---
Link to the original article