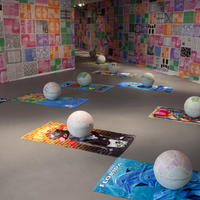 by Andrea Magenheimer
GEAN MORENO AND ERNESTO OROZA at Wharton + Espinosa..-Gean Moreno and Ernesto Oroza are both Miami cultural heavyweights, and in their work together are known for curating, writing and research-driven artistic practice.
The two have collaborated on several projects, harkening back to their first show together in 2008,Studio Scrap Stool. These stools, cut and reorganized 2×4" planks, were the beginning of a dialogue regarding materials and their concern with the standards of a "designed object," and how that could be manipulated to produce meaning.
---
Link to the original article