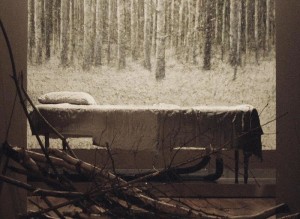 October 14, 2011 – January 1, 2012.
Opening Reception for Enrique Martínez Celaya: Schneebett
Featuring Miami Symphony Orchestra
Thursday, October 13, 6-8pm
Miami Art Museum
101 West Flagler Street Miami, FL 33130
From Soul of Miami
Miami Art Museum will present the United States debut of Enrique Martínez Celaya's Schneebett, a major installation inspired by Ludwig van Beethoven's convalescence and death in Vienna, Austria in 1827, originally created for the Berliner Philharmonie. Enrique Martínez Celaya: Schneebett will be on view from October 14, 2011 through January 1, 2012 in the Museum's Anchor Gallery, a space dedicated to large-scale works from the permanent collection. The exhibition opening will take place October 13, 2011 from 6 to 8pm and feature a performance by members of the Miami Symphony Orchestra.
Schneebett, which reflects on and transports the viewer into the final hours of Ludwig van Beethoven's life, was the first work of art commissioned for and exhibited at the Berliner Philharmonie since its founding in 1882. It was presented in 2004, and was shown in juxtaposition to the music of the Berliner Philharmoniker with special programming at the American Academy in Berlin. Schneebett was presented again in 2006 at the Museum der bildenden Künste in Leipzig where it offered a counterpoint to Max Klinger's statue of the heroic Beethoven as the creative genius. The title, Schneebett ("Snow-bed"), is from a poem by Holocaust survivor Paul Celan, a meditation on death. To re-animate the spirit of those celebrated exhibitions, Martínez Celaya created a new version of the installation for Miami Art Museum, which opens with a performance of Beethoven's late quartets by the Miami Symphony Orchestra. A video of the performance will be on view for the duration of the exhibition.
---
Link to the original article