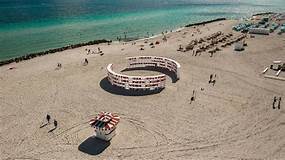 This is an important artist and an important work. The exhibit closed on December 9, 2020 but it bears mentioning.
Faena Art unveiled a monumental site-specific artwork on Miami Beach as part of Miami Art Week 2020.
The monumental site-specific installation entitled 'Dreaming with Lions' by Miami-based Cuban artist Alexandre Arrechea is located on the beach directly in front of Faena Hotel and is free and open to view until Sunday, 6 December 2020. This new work within the Faena District provides a safe environment for the local community to explore and interact with public art.
---
Link to the original article