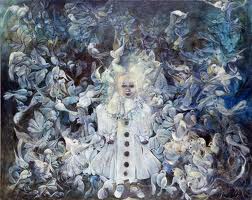 March 2 -March 5, 2012
Miami Beach Convention Center,
1901 Convention Center Drive, Miami Beach, Florida.
Cremata Gallery Booth #912
Cremata Gallery is pleased to present at Arteamerica  a solo exhibition of paintings by DEMI, one of the most critically acclaimed Cuban-American artists in the United States. The exhibition is an extensive body of work, executed within the past five years by a painter known for her mastery of color, light, and texture.  The exhibition will open on Friday, March 2 at 7 p.m. and will continue until Monday, March 5.
DEMI's work is highly acclaimed and has been widely exhibited and published.
She has been represented in group and solo exhibitions for more than 25 years, and often uses her work as a forum to raise awareness for children's rights.  Since
1998, the Smithsonian's Archives of American Art has been collecting DEMI's primary records (correspondence, notebooks, drawings, photographs, catalogues).
In 2009, DEMI was personally invited by the U.S. Ambassador to the Holy See, Miguel Diaz, to display one of her work in the U.S. Embassy residence in the Vatican City.
The painting,   Two Artists and Their Children of Their Imagination, will be on view for two and a half years as part of the prestigious ART IN EMBASSIES program.
DEMI's work is featured in many public and private collections worldwide and have been widely exhibited in galleries and museums in Switzerland, France, Panama, Puerto Rico and the United States.
---
Link to the original article