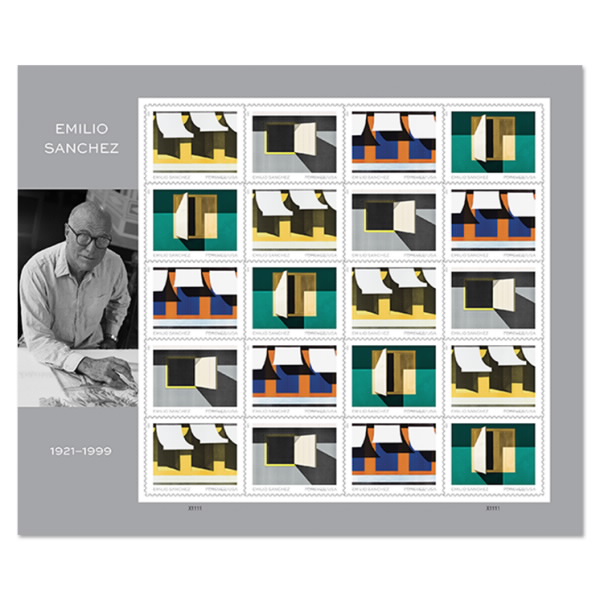 The United States Postal Service has honored Cuban Artist Emilio Sanchez with a series of Forever stamps. The USPS, together with art director Antonio Alcala, created the series on the centennial anniversary of his birth. Sanchez is the first Cuban American artist to be featured on USPS stamps. The sheet consists of twenty stamps, which display four of Sanchez's stylistic architectural paintings and lithographs. They are Los Toldos (1973), Ty's Place (1976), En el Souk (1972) and Untitled (Ventanita entreabierta) (1981). The abstract pieces consists of simple yet striking colors. They feature window panes and canopies created with crisp vertical and horizontal lines. They are not realistic copies, but symbols of buildings. In the pieces, Sanchez explored the effects of light and shadow on these abstract geometries. His fascination came from sights he saw in his homeland of Cuba.
Emilio Sanchez was born in Camagüey, Cuba in 1921. One of the island's most prominent families raised him, and their wealth allowed him to travel to New York City in his early twenties. In the states, he began his arts education at the Art Students League. He spent the rest of his life in the city. Yet he traveled widely to the Mediterranean and Latin America. The architecture of the white homes lining the boulevards of Casablanca left a lasting impression on the artist. The influence is apparent in his paintings.
To order the stamps click the link below.
---
Link to the original article