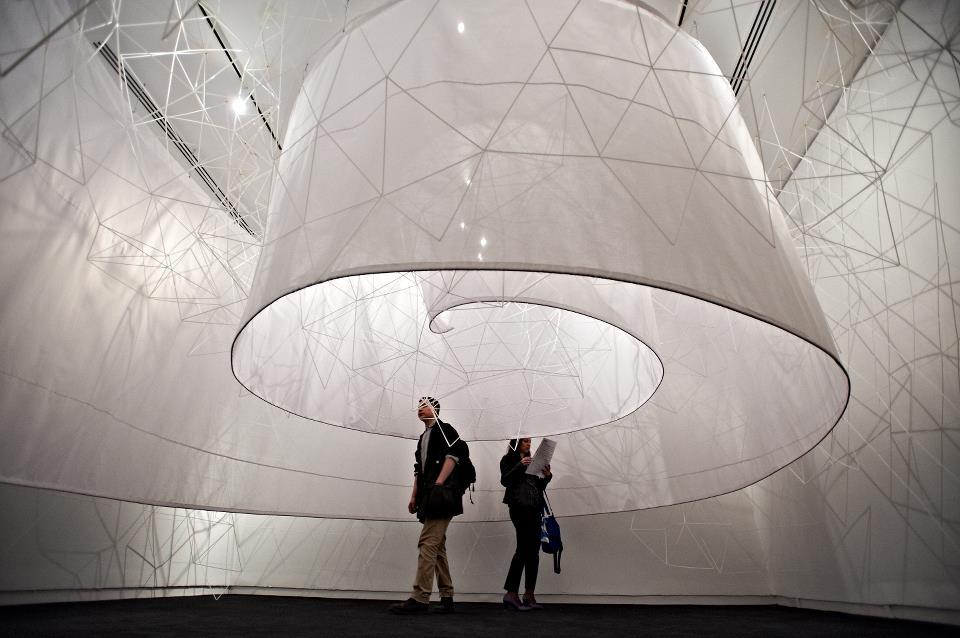 Saturday, 12/03/11 7pm-10pm
HARDCORE ART CONTEMPORARY SPACE
72NW 25th Street. Miami FL 33127
Consuelo Castaneda is presenting during Art Basel Week at The Chill Concept @Hardcore Contemporary Art Space the installation "Homage to Gego", that was exhibited during her personal exhibition " For Rent" at Americas Society in NYC from May 17-July 30, 2011. Curated by Yasmeen Siddiqui and Gabriela Rangel.
An inward spiraling veil in the space is the form and its materials and construction reference Fibonacci (1170-1250), Wentzel Jamnitzer (1508-1585), Johannes Kepler (1571-1630), and Buckminster Fuller ( 1895-1983). Draping over this anatomical shape is a geometric configuration made out of drinking straws, representing Castanedas re- reading of Gegos´ Reticulárea, which was originally commissioned for this same gallery (America's Society) in 1969.
Appropriation is a strategy Castaneda uses frequently. For this project, she decided to cite this particular installation originally made out of aluminum and steel. Gego experimented with de-centering forms in the context of kinetic art and spatial practices. Castaneda identifies this critical moment in post-war art making as especially relevant, and restages Gego´s structure in an attempt to continue this line of inquiry by repositioning the Reticulárea as a central figure in the modernist canon. Furthemore, Castaneda aims to evoke a complexity of issues embedded in the field of genetic research, focusing on the research of Crick & Watson (1953) and subsequent developments made in the breakdown and study of DNA.
---
Link to the original article