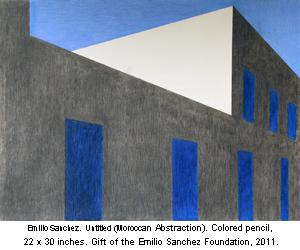 January 13 -March 11, 2012
A Gallery Talk and Reception:
Thursday, February 16, at 5:00 p.m.
Saint Joseph College Art Gallery
1678 Asylum Avenue, West Hartford, Connecticut 06117-2791
This exhibition presents 17 works of art created by Emilio Sanchez (1921-1999), a Cuban-born American artist who won acclaim for his strikingly abstract paintings of architecture and landscape.  Born in Camagüey, Cuba in 1921, Sanchez studied at the Art Students League in New York after moving to that city in 1944.  Although he lived in New York for the rest of his life, his work continued to be inspired by the strong light and vibrant colors characteristic of his homeland.His well-known paintings of architectural themes focus on simplified forms rendered even more abstract by the play of light and shadow.  Traveling to countries around the Mediterranean in the 1970s and 80s, he found inspiration in the stark white vernacular buildings of Morocco.  He was also fascinated by the forms of New York skyscrapers seen against colorful dawn or sunset skies. Emilio Sanchez was the recipient of prestigious awards, including first prize at the 1974 Biennial in San Juan, Puerto Rico.  His work is represented in many major museums, including New York's Museum of Modern Art and the Philadelphia Museum of Art.
---
Link to the original article