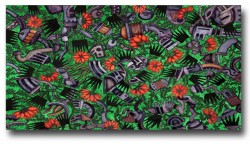 Art Miami
Dec 1 to Dec 4, 2011
TresArt is proud to announce exhibit of Claudio Castillo at its booth in Art Miami.
Exhibit will be displayed in its Gallery in Coral Gables until January 6, 2012
This unsual show of app art is programmed never to repeat itself. Original watercolors are split into layers and animated; the resulting movies are then composited back together, and displayed in a random, non-linear progression. Every viewing and print is therefore unique.
---
Link to the original article