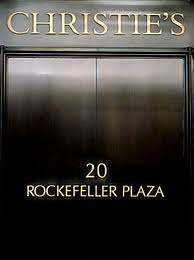 We are pleased to announce Christie's Latin American Auction to take place on May 26 & 27.
Location: 20 Rockefeller Plaza, NY
Viewing dates are:
May 21  10am – 5pm
May 22   1pm – 5pm
May 23, 24, 25 10 am – 5pm
May 26 10 am – 12 pm
Christie's Latin American Art Auction.  -The following Cuban American Artists are included in the sale:
Cundo Bermudez, Ana Mendieta, Jose Bedia, Julio Larraz, Humberto Calzada, Tomas Sanchez, Arturo Rodriguez, Enrique Martinez Celaya, Carlos Alfonso, and Miguel Padura.
You can also view works by the Grand masters of cuban art – Wilfredo Lam and Amelia Pelaez.
---
Link to the original article