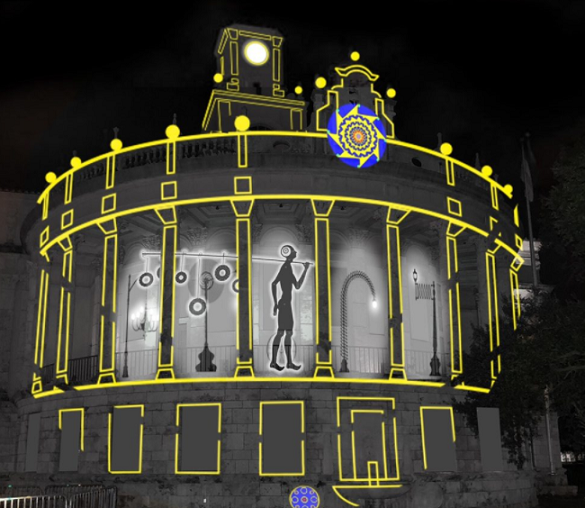 Coral Gables City Hall: 405 Baltimore Way
February 12 – March 15, 2021
Cuban born, Miami based artist Carlos Estévez will be creating his first technology-based artwork. Based on Estevez's paintings and sculptures, this new projection mapped immersive work  will be cast on the entire surface of the historic Coral Gables City Hall building. The artist's previous work seems to capture a moment of time but for this new commission, Estévez will work with a team of animators to develop the video content about people's movement, interaction, and sense of community. He has always contemplated working in this way but due to costs and need for technical support has waited for a moment like this. We are proud to be presenting this work every evening for the month-long exhibition period.
In tandem with the video mapped projection piece, Estevez is creating an educational tool and interactive artwork with our educational partners Florida International University Art & Art History Department and the Miami Dade County Public Schools. Through a demonstration video, art teacher workshops and in personal lessons, Estevez hopes to inspire and help the children and their families in the district make kites that are based on identity, self-portraiture, and inclusivity.
ARTIST STATEMENT:
"Urban Universes is the most exciting project of my career. The work consists of the animation of various passers-by or characters that I portray in my paintings. This work pays homage to the City of Coral Gables and its inhabitants. Coral Gables is one of the oldest and both culturally and historically rich cities in South Florida, especially the street of Miracle Mile and its surroundings. The heart of the city is a center of leisure for locals and tourists. My work will be projected on the entire City Hall facade. The images will be imaginary representations of people passing by, walking, and conversing amongst themselves, projecting their goals and dreams, just like the people that inhabit this city. These people are portraits of different individuals that come across one another fortuitously. I wanted to imagine the inner world of people, their identities, and emotions, which I translate with lines and colors. Each person that walks by the city will see their reflection in some of the characters in this piece, identify with the characters will make them feel included, and also feel like a part of this city.
Urban Universes is the work that I am presenting for the Illuminate Coral Gables exhibition. It is orchestrated by curator Lance Fung whose vision is to take the artworks of individual artists to an urban community. It is going to be a fascinating experience that reverses the ordinary dynamic of art. Rather than going into museums, galleries, or art institutions, the art will find and amuse you on the streets of your city."
---
Link to the original article