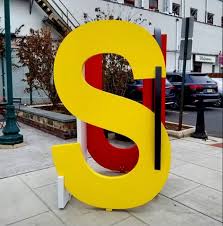 The Visual Arts Center of New Jersey recently launched another video installment of their Cabin Fever Artist Talks. In this latest episode, Cuban-born artist Jorge Wellesly discusses his art. His work is about the relationship between truth, reality and language. The artist states, "I have seen that language is not enough to interpret reality and to communicate truth." He often uses text in relation to social issues. But he also uses symbolic elements such as billboards or public signs. He explains that they "remind us of how the power addresses us through media, advertising and now social media."
A multidisciplinary artist, Jorge uses various media such as painting, drawing, sculpture, and installation. He always strives to express the complexity of how to create meaning and sense.
Influenced by Bauhaus and the Black Mountain College, he pays attention to the combination of several disciplines like architecture, science and art. He also takes ideas from the philosopher Ludwig Wittgenstein who explained that "language is an arbitrary but necessary tool to build our reality."
When he lived in Cuba, his art was a mirror of social and political upheaval. "Any art that criticized the communist government was censored or even punished with incarceration," he said. For instance, in 2012 the Cuban government denied his artworks for the Havana Biennial. They claimed the text was politically incorrect.
His move to the US impacted him personally and artistically. In 2019, he completed his first public sculpture. It includes four letters that spell SOUL in different colors to represent human diversity. He currently lives in Guttenberg, NJ.
The Cabin Fever Artist Talks provides methods for bringing people art at home safely as the Covid-19 health crisis continues. It includes videos of artists detailing their artistic process and presenting studio tours.
More info on Jorge Wellesly- Cuban Art Database, Cuba Art News
---
Link to the original article