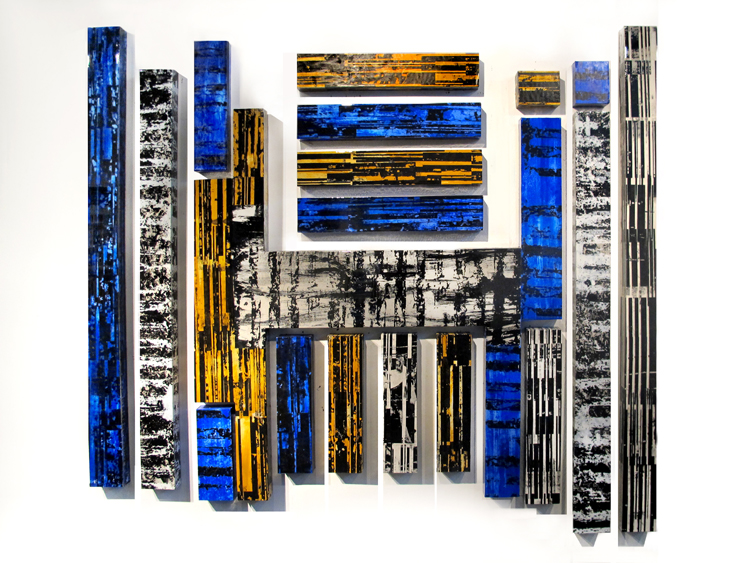 November 10 – December 22, 2012
Waltman Ortega Fine Art
2233 N.W. 2nd Avenue
Miami, FL 33127
Barcode & Closer at Waltman Ortega. -Waltman Ortega Fine Art presents two solo exhibitions: "BARCODE" by Jorge Enrique and "CLOSER" by Jérôme Lagarrigue.
"Barcode" is a chapter in Jorge Enrique's ongoing series called "Urban D-construction" (2009-2012) featuring recent works ranging in sizes and formats. With his mixed media works the artist offers a specific perspective on the dizzying shifts between man and machine that he describes as "revved up minimalism" – minimal palette of colors that never mix; and a use of very simple elements multiplied in a very intense repetitive manner.
Jérôme Lagarrigue has a contemporary eye, formatted to the measure of new image technologies. The prism of the photographic lens and the blur of freeze frames are the cornerstones of his approach. This dematerialization allows him to get as close as possible to people and their flesh. The paintings in "Closer" exhibition present us with over-detailed bodies, as though the aim was to make them lose their own reality and authorize a metaphysics of introspection.
Link-> Barcode Press Release
Link -> Closer Press Release
---
Link to the original article