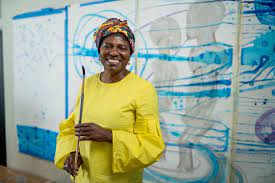 Cuban-American visual artist Maria Magdalena Campos-Pons is having a phenomenal year. She just won a prestigious 50,000 dollar prize from the Perez Art Museum. She garnered recognition not only for her diverse talent in a variety of mediums, and but also for her dedication to social issues. Maria Magdalena is a very special person, not only is she a great, great artist—in photography, in video, in performance—she uses a lot of mediums to express her artistic talents, but she always gives back a lot," said Jorge Perez. The artist has received well-deserved praise from the artistic community for her dedication. In 2018, Anonymous Was a Woman gifted her with a 25,000 grant.
Campos-Pons is a key figure in post-revolutionary art. In the last three decades, she has received international acclaim. Her work has elements of abstraction and minimalism. Her large scale masterpieces of sharp color and striking imagery have made her as a staple in museum around the world. In addition, she was invited to participate in the Havana Biennial in 2019. The artist is now represented in over thirty museum collections. Some of the major institutions displaying her art include the Museum of Modern Art in New York, Whitney Museum of American Art, Art Institute of Chicago, Museum of Fine Arts Boston, PAMM, and the Victoria and Albert Museum in London.
Aside from being a permanent fixture on those grand museum walls, the artist just had some major solo exhibitions. In 2019, "María Magdalena Campos-Pons: Sea and Self" debuted at the Haggerty Museum of Art in August. The show will continue until December 2021. It includes works from the late 1990s to present, including photographs, photographic installations, and a new series of drawings.
Interestingly enough, all of these major merits come towards the later part of her career. She was born in Cuba in 1959. She trained at the Escuela National de Arte in Havana between 1976 and 1979. From 1980 to 1989, she attended Havana's Instituto Superior de Arte. She has been creating art for over fifty years, and her recent recognition is long overdue.
---
Link to the original article