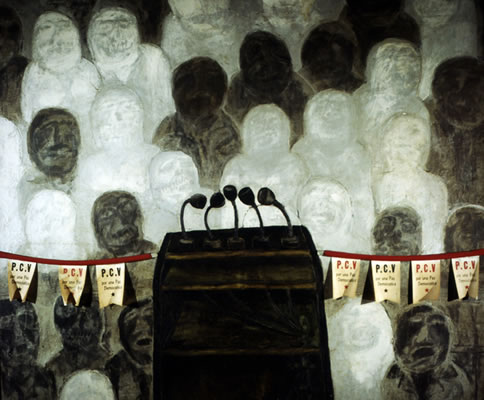 Through November 17th, 2013
MDC Museum of Art & Design, Freedom Tower
600 Biscayne Blvd.
Miami, FL
Antonia Eiriz's at MDC.  -The sweeping canvases of the late Cuban painter Antonia Eiriz are not always easy to view. That is not to say they are harsh and hard — very little overt violence is expressed in these works; but the blurred faces and figures are contorted, silently shouting out in pain, or they are just silently suffering.
Many of her works — thought to walk the line between expressionism and abstraction — are covering the walls of MDC Museum of Art + Design at the Freedom Tower, a huge space well-suited to this retrospective of an artist under-appreciated in the United States, and Miami (although not by many within the art community). In fact, this is the biggest exhibit of her work, called Antonia Eiriz: A Painter and Her Audience.
In an interesting addition, curator and artist Michele Weinberg has included a number of contemporary artists who have been influenced by Eiriz. The variety of works highlighted in this section — from Luisa Basnuevo and Nereida Garcia-Ferraz to Ana Mendieta, Glexis Novoa and Tomas Sanchez — underscore that Eiriz's influence was far broader than simply imparting the tricks of the trade to a new group of emerging artists.
---
Link to the original article