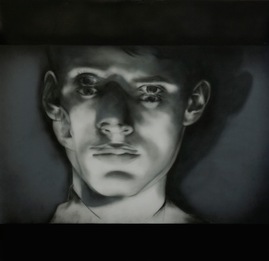 August 13, 2016 to September 3, 2016
MONTE CLARK GALLERY
#105, 525 Great Northern Way
Vancouver, BC
Canada
V5T 1E1
In Anthony Goicolea's new exhibition "Shadow Projection," the Cuban-American artist continues his investigation of portraiture, identity, beauty, and the grotesque in a series of mixed media works on double-sided frosted mylar film.
Goicolea's "Shadow Projection Portraits" are presented as videographic images with black bars above and below, the letterbox format referencing the transference of wide format film to standard width video. Rendered as photo-like film stills in graphite and acrylic, the portraits further conflate the mediums of film, photography, and painting.
Borrowing the most visually compelling and striking characteristics from different portrait subjects, Goicolea repeats traditionally beautiful features in duplicate or triplicate until they morph or dissolve into hauntingly abstracted and deformed renderings of engineered faces. Each portrait is an amalgamation of different facial features cobbled together from semi-androgynous men and women, and the series has strong ties to the artist's early self-portrait work. Traditional portraiture encourages the viewer to hone in on specific characteristics to identify a specific individual, while these portraits rebuke that instinct—it is almost impossible for the eye to rest on any one specific recognizable feature before it dissolves into the next layer of dislocated eyes, nose or mouth.
---
Link to the original article