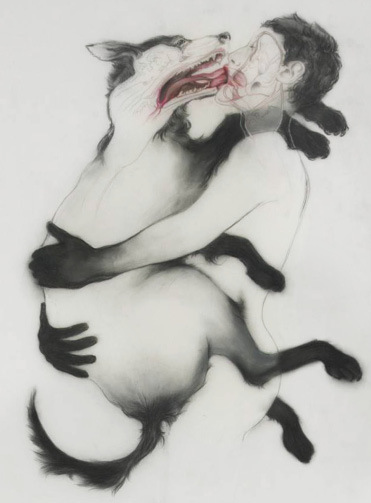 September 10 – October 15, 2011
Opening: Saturday, September 10, 6 – 8 PM
Postmasters Gallery
459 West 19th Street
Chelsea
Postmasters is pleased to present Pathetic Fallacy, an exhibition of new drawings and photographs by ANTHONY GOICOLEA. This will be the artist's fourth solo show at the gallery. Central to the exhibition is a forty-foot long wall of layered drawings, large and small, rendered in graphite and ink on mylar.
The term "pathetic fallacy," coined by John Ruskin in Modern Painters (1856), describes the treatment of inanimate objects and places as if they had human feelings, thoughts, or sensations.
In this new group of photographs and drawings nature takes on anthropomorphic characteristics. A new, uneasy equilibrium is created as human and animal bodies merge, trees grow hair and pump blood, flies multiply into tornadoes and wild dogs settle in the ruins of a home.
---
Link to the original article