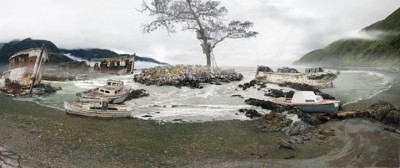 July 22-August 7, 2011
Opening Reception: Friday, July 22, 6-9PM
Storefront
16 Wilson Avenue Brooklyn, NY
Featuring the work of:
Salvatore Arancio
Anthony Goicolea
Pablo Helguera
Mary Mattingly
Francesco Simeti
Letha Wilson
Late Summer Blues is an exhibition of collage-based works in video, photography, and sculpture that reflects on our collective impulse to reconfigure and manipulate the landscape – both urban and rural – as a means of escape from the compression of summer in the city. Coupled with the desire to find respite from the concrete hardscapes that permeate our vision and movement, Late Summer Blues also suggests an imminent inversion of desire. As the middle of summer passes, a premature sense of nostalgia for the end of summer as an end of freedom comes into focus. How do we spend the last days of summer?
Each of the artists in the exhibition offer us with views of summer that involve conceptual and formal manipulations as a means of re-orienting the viewer's understanding of place, time, and the atmosphere we occupy.
—-
STOREFRONT was started by Jason Andrew and Deborah Brown. It is Bushwick's leading gallery presenting both emerging young talent and established historically significant artists.
HOURS: Weekends 1:00-6:00PM or by appointment 646-361-8512. www.storefrontbk.com
---
Link to the original article