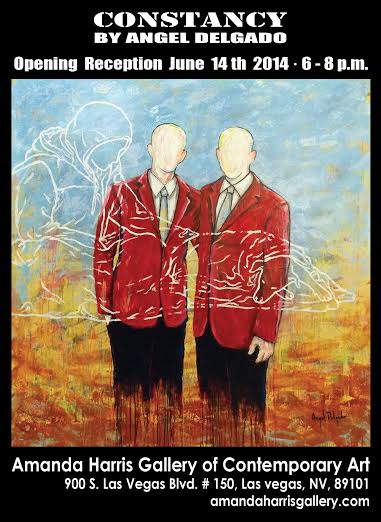 Opening Reception and Documentary Screening: Saturday, June 14, 6:00 p.m. -8:00 p.m.
Amanda Harris Gallery of Contemporary Art,900 S. Las Vegas Blvd. #150,Las Vegas, NV 89101.
Angel Delgado, "Constancy", at Amanda Harris Gallery of Contemporary Art, Las Vegas. -Las Vegas based artist Angel Delgado will present a new series of painting, drawings and installations in a solo exhibition titled "Constancy". The work of Delgado is largely based on the limitations, restrictions, prohibitions and controls that you are constantly imposed on human beings in society. Through keen observation of the everyday and the ordinary, Delgado is trying to transform those objects or situations that are the daily step in photographs, drawings, videos, paintings, installations and performance, with a poetic that makes us reflect on our lives, about social processes or on the same processes of artistic creation.
Delgado has shown his work internationally for over 15 years, including solo shows in Havana, Madrid, Mexico City, Puerto Vallarta, Istanbul, New Orleans, Los Angeles and Pittsburgh.
---
Link to the original article