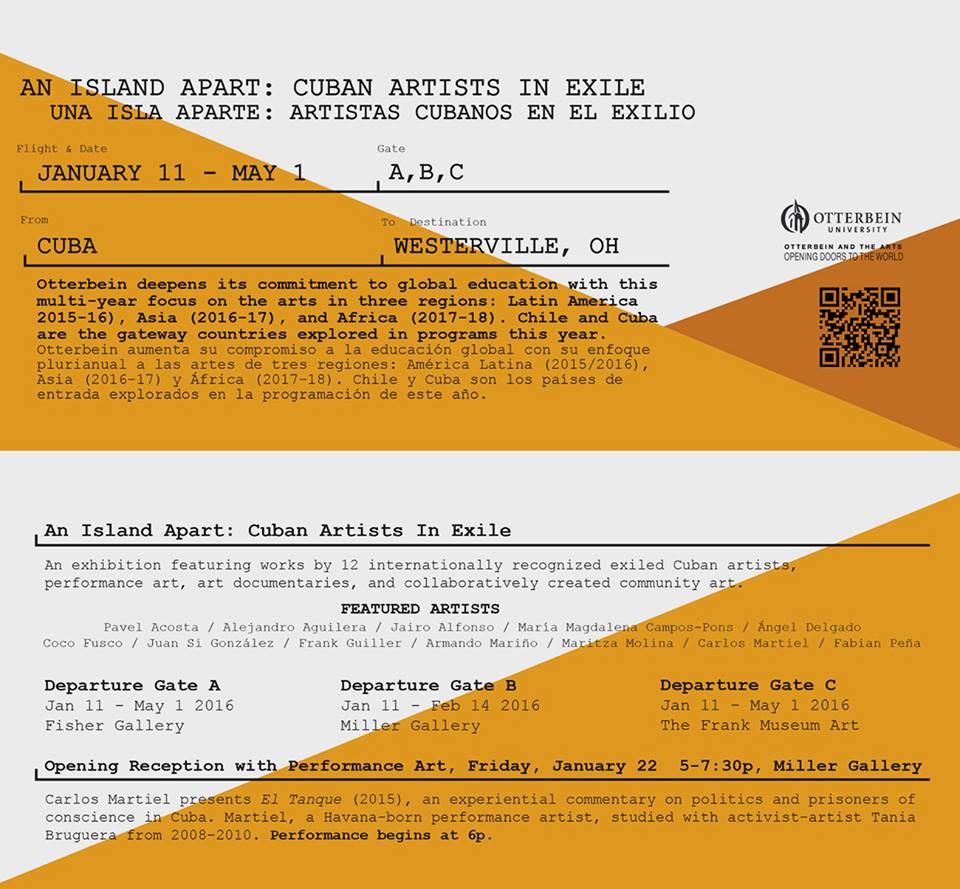 OPENING RECEPTION with a Performance by Carlos Martiel
Friday, January 22, 2016 from 5:00 to 8:00 p.m.
Miller Gallery
33 Collegeview Road, Westerville, Ohio
Carlos Martiel, a Havana-born performance artist will be presenting "El Tanque ", an experiential commentary on politics and prisoners of conscience in Cuba. Performance begins at 6 p.m.
Pavel Acosta / Alejandro Aguilera / Jairo Alfonso / Angel Delgado / Coco Fusco / Frank Guiller (Rank) / Armando Marino / Maritza Molina / Carlos Martiel / Fabian Pena and Juan Si Gonzalez.
The exhibition "An Island Apart: Cuban Artists in Exile" spans three galleries:
DEPARTURE GATE A / January 11 to May 1
Fisher Gallery
Roush Hall, 27 S. Grove St., Westerville, Ohio
DEPARTURE GATE B / January 11 to February 14
Miller Gallery
33 Collegeview Rd, Westerville, Ohio
Gallery hours are 8 a.m.-4 p.m.
DEPARTURE GATE C / January 11 to May 1
Frank Museum of Art
39 S. Vine Street, Westerville.
Museum hours are 11 a.m.-3 p.m.
---
Link to the original article