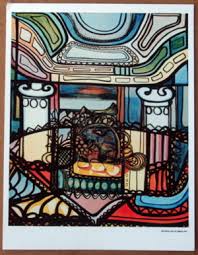 Amelia Pelaez at Perez Art Museum. -Pérez Art Museum Miami (PAMM) will present a focused selection of works by Amelia Peláez del Casal (b. 1896 – d. 1968), one of the most important Cuban painters of the modernist era. Alongside artists such as Carlos Enríquez, Wifredo Lam, Victor Manuel and Fidelio Ponce de León, Peláez personifies the primera vanguardia—the first wave of Cuban artists who traveled to Europe before World War II, where they were exposed to Cubism, Surrealism and other contemporaneous styles. When these artists returned to the island nation, they introduced the artistic innovations they had adopted abroad and transformed them by incorporating aspects of their native cultural and national identities.
December 4, 2013 – February 4, 2014
Perez Art Museum 1103 Biscayne Blvd.
Miami, FL
---
Link to the original article